by Bryan Lindenberger
Some people move through life in straight line, with a clear target and laser-like focus. These are the students who come to the University of West Georgia knowing from middle school exactly what their career path will be and carefully plot every educational step to achieve it.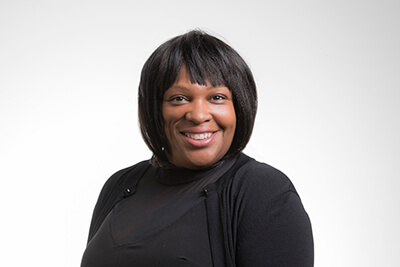 Others follow a no less ambitious but more holistic path of discovery. Circumstances beyond their control may require them to change course or discover new passions. Such persons often have an uncanny ability to pull all the disparate pieces together into picture that only comes into focus over time.
One such person is Felisha Kendrix.
"My hope is to inspire anyone to keep trying," said Kendrix, a graduate student in the media instructional technology program at the College of Education.
After her husband passed away in 2000, she found herself raising two sons on her own and realized she needed to further her education.
"Eventually, anyone can find a beautiful shining light at the end of the tunnel," Kendrix said. "Once at the end of the tunnel, I discovered there are limitless possibilities and a new beginning."
Kendrix began taking classes here and there as she could in 2003, working slowly toward completing her core requirements. In 2007, she began work as a 911 dispatcher for Carroll County. She enjoyed the job, as it fed her desire to help people.
Then in 2012, Kendrix made a move that changed her life. She began working as a dispatcher for the University of West Georgia police department. Working for UWG provided her the opportunity to continue her career but also mold her own position as she spearheaded the department's social media platforms.
Most importantly, she could now take part in the UWG Tuition Assistance Program (TAP). Her sons — and her life — were in Carrollton. With a full-time job at UWG, she was able to take classes online around her busy schedule. Guided by recent career experience, in 2016 Kendrix graduated a bachelor's degree in criminology from the College of Social Sciences.
"That day was by far one of the best days of my life," Kendrix said of her commencement. "It's especially important to me since I am the first person on both sides of my family to graduate with a bachelor's degree."
But her journey did not end there.
Kendrix realized to pursue an advanced career in law enforcement, she would need to become mandated as a police officer. That path didn't interest her, so she tried to think of what else she could do with a criminology degree that might better suit her.
"I set out to find a supervisory position," Kendrix said.
Her rationale was that with a criminal justice degree and management experience, she could combine them into a career of her liking such as educational technology. Maybe she could even teach some criminology classes.
In 2017, UWG's Ingram Library offered her a managerial opportunity that she holds today: circulation supervisor.
In her pursuit to enhance her teaching skills, Kendrix enrolled in a master's level (M.Ed.) program in media instructional technology in the College of Education.
"A master's in education with an information technology concentration is the right fit to reach my goal as a technology instructor," Kendrix said. "I believe as long as I continue striving toward my educational goals and UWG's vision, my possibilities are endless."
Set to graduate in 2019, Kendrix could perform a number of career roles with her degrees and experience. For instance, she could design company websites or instruct training programs. To tie her two degrees and experience together, she could train in technology at a 911 call center.
But for Kendrix, her dream job is to become a professor at UWG.
"I love the atmosphere of the university," Kendrix said. "I love the vision and the mission. I love what the university stands for. I love that we are a family. UWG truly is the best place to work, learn and succeed."
Posted on