by Nikole Gianopoulos
The University of West Georgia's very first vehicle charging station is now fully operational. The station is a charge point dual port unit that will charge two vehicles simultaneously and independently from one another. The two spaces are located in the Pafford parking lot next to the TLC. This move is the latest of UWG's efforts to create a more environmentally friendly campus.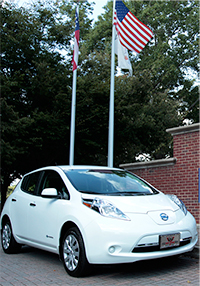 "We are exploring many green initiatives on campus as well as refining the ones we currently undertake," said Project Manager Seth Lambert. "We have staff involved with sustainability clubs and project managers obtaining leadership in energy and environment design certifications to help design greener projects."
Planning began in September with faculty, staff, and student input to get proposals for priority locations that the UWG planning and construction services designated. They were rewarded a rebate in October from the Georgia Environmental Finance Authority (GEFA) for the TLC location.
Usage is currently set for a first-come, first-served basis to the public. The fee per hour is set at $0.90. Currently, there is no maximum allowed time or penalty for using the station. However, to use the space without penalty, you must be plugged-in and charging.
The rebate program stipulates that the charger must remain in use for a minimum of three years, though it is planned to be used indefinitely. Data must be reported every six months through GEFA.
This project is evidence of UWG's continued commitment to environmental responsibility.
"We hope that through our efforts and awareness everyone will begin to think more about how we can better manage our property and resources," said Seth. "We all spend so much of our time here, we want to make it more enjoyable for everyone."
Posted on