by Bryan Lindenberger
The dynasty continued for UWG Cheerleading at the ESPN Wide World of Sports on Jan. 19 in Orlando, Florida, as the University of West Georgia Wolves took home the hardware in both All-Girl and Coed competition. The event marks the second year in the past three that the Wolves have swept their team competition entries under head coach Nicole Nichols.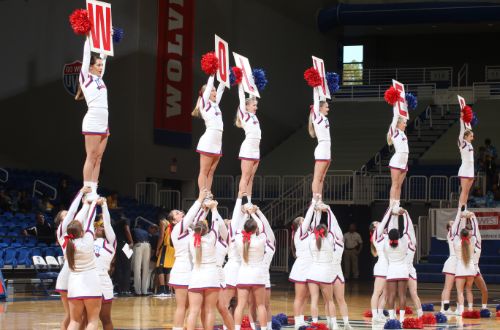 The UWG cheer program has sustained a dynasty since 2001, when former coach Sherry Cooney took a program that faced numerous challenges and shaped it into a national contender that has now reached 24 championships at the UCA Nationals.
Nichols began leading the program in 2011 and never broke stride, leading the Wolves to 10 titles at the UCA Nationals. The all-girl squad won two-straight titles in Nichols' first two years at the helm of UWG Cheer, and this year marks the sixth-straight title for the coed squad. 

The all-girl squad moved to Division I in 2013 and have since won the Division I All-Girl title in 2013, 2017 and again in 2019. UWG edged powers like Morehead State and Villanova University in this year's competition, and the Wolves have now been crowned champions nine times on the stage in Orlando.
In the coed competition, the 2020 UCA Nationals will be a chance for Nichols to take another step into history. The Wolves have already begun preparations for next year's competition, as a win would tie the longest run for a UWG squad at UCA Nationals. West Georgia won seven consecutive titles from 2002-08.
The continued success of the program serves as a tribute to Wolves past in remembrance of a painful tragedy that impacted both UWG and the Carrollton community. On Aug. 10, 1997, cheerleaders Deandre Hamilton, 20, Michael Massa, 18, and their coach, Stephanie Shaw, 27, lost their lives in a bus crash that hospitalized 10 others while traveling to a cheer camp in Myrtle Beach, South Carolina. The crash brought UWG students, alumni, faculty, staff and the community together to both grieve and pay tribute to those lives were cut short by the tragedy.
Posted on