by Colton Campbell
For the University of West Georgia, every year is a LEAP year.
2019 will see the growth of LEAP West!, a UWG offshoot of a national higher education initiative called Liberal Education and America's Promise, or LEAP. This year's "giant LEAP" will provide enhanced opportunities for students to become further engaged in practices that will transform not only their educational journeys, but their future careers and lives.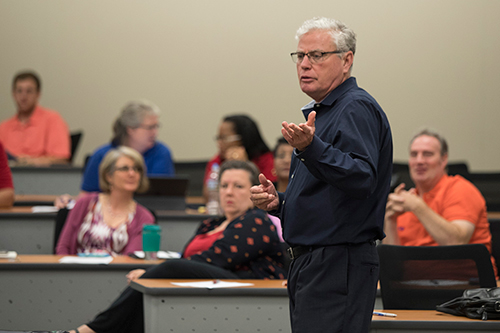 Launched in 2005 by the Association of American Colleges and Universities (AAC&U), LEAP emphasizes analysis, critical thinking, written and oral communication, personal responsibility, civic and engagement and other skills that form a more rounded, engaged individual both in- and outside the workplace.
UWG's Provost and Vice President of Academic Affairs, Dr. Micheal Crafton – who has spearheaded LEAP efforts not only at UWG but across Georgia – has been named a senior fellow in the organization by AAC&U.
"It is a great honor to be recognized for the work we've done to advocate for this initiative," Crafton said. "I remember going to a national gathering hosted by AAC&U and hearing about LEAP for the first time. I was hooked right away. The kinds of leaders and thinkers America needs in order to flourish are, I think, best prepared with this kind of education."
Since that moment, Crafton has taken LEAP and its practices and promises on the road, serving as the chairman of the LEAP State Georgia steering committee. Georgia received formal LEAP State status in 2016, thanks in large part to Crafton's leadership.
"This is important work because so many people in our country have lost sight of the connection between a broad, liberal education and earning a living for themselves and their families," Crafton said. "Most jobs today require broad learning that incorporates all aspects of a liberal education, and even the individuals who aspire toward very specific skills-based careers like engineering and accounting would find great value in having the foundational knowledge of numerous subjects and the skills that we're promoting."
Those skills – including the ability to effectively communicate both in writing and orally; critical thinking and analytical reasoning; and the ability to work effectively both in teams and independently – are frequently identified by executives and hiring managers in American corporations for essential qualities most applicants lack.
One key aspect of the LEAP initiative is high-impact practices – a wide spectrum of practices and programs that range from study abroad opportunities to internships to engaging, small seminars in which faculty-student interaction can be maximized.
"Many students lack the resources to take advantage of these often life-changing opportunities not because of a lack of ability or interest but because of economic constraints or lack of confidence," Crafton said. "We're working to change that so that high-impact learning can be for everyone."
LEAP is thoughtfully designed to take on two sets of goals. One is Essential Learning Outcomes, which address the core skills required of students, such as writing or critical thinking.
"The number one criticism we hear from employers is that their hires can't write," Crafton said. "The set of goals called the 'Essential Learning Outcomes' not only addresses written and oral communication, but other critical needs such as civic knowledge, inquiry and analysis and ethical reasoning and action."
The other set of goals is called Principles of Excellence.
"These principles ask us to hold nothing but the highest expectations of our students and ourselves," Crafton said. "They ask us to achieve excellence and inclusiveness so we are working always on these issues of community, civic responsibility, equity and inclusion, as well as the highest forms of academic achievement."
At its most complete expression, the work of LEAP culminates in what's called a student's Signature Work – a project completed across a semester of study that challenges students to integrate and apply their learning. Signature Work can be pursued in a research project, a capstone experience or in service learning.
Crafton said he looks forward to seeing the continual progress LEAP West! has afforded the university since its launch a few years ago.
"If we continue this upward push we've been riding for the past several years, we could see an elevation of our educational programming we haven't seen in 30 years or more," he said. "I'm excited to see what 2019 – and beyond – has in store for the opportunities we can create for our students."
Posted on