by Taylor Kilgore
Over 45 years ago, Chester Gibson turned the University of West Georgia's debate club into a highly competitive debate team, which began winning tournaments across the nation. Now, UWG is one of the top sixteen teams awarded the "First-Round At-Large Bid" to the National Debate Tournament. For the 10th time this century, the debate team has been ranked in the top 16 in the nation at the end of the regular season.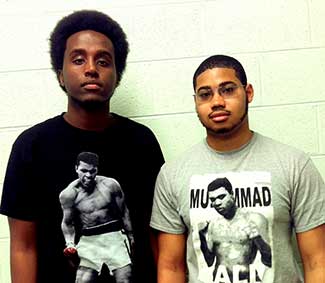 "We are pleased to not only be within the top 16 teams in the nation, but also to have this accomplishment over 10 times since 1999," said Director of Debate Dr. Michael Hester. "Our overall debate squad's GPA is above a 3.3, which is an excellent accomplishment."
All members of the current UWG Debate staff are alumni of UWG Debate, including coaches Geoff and Sarah Lundeen.
Senior Hakeem Muhammad and junior Khalid Sharif accomplished the feat of getting nationally ranked in the regular season at a qualifier in Texas. The duo are now automatically qualified for the National Debate Tournament, which includes the top 78 teams in the nation.
"Going to the National Debate Tournament in the first round as top 16 in the country speaks to the hard work and dedication Hakeem and I have put in to be among the most competitive teams in the nation," said Khalid. "In the the beginning of the year we were uncertain about being as competitive as we needed to be since we were a new partnership, but we have meshed really well and have been coming to tournaments in full force. This isn't the end all be all of accomplishments. We were acknowledged for being a top NDT contender, but we plan on working to exceed even those expectations."
Sophomore Nick Charles and freshman Gershom Chan competed at the Southeastern District VI tournament February 19-21 and also qualified for the National Debate Tournament. Gershom and Nick, both from Chicago, came to UWG specifically for the competitive debate team offered at this university.
Posted on