by Taylor Bryant
The University of West Georgia debate team of Hakeem Muhammad, senior, and Khalid Sharif, junior, led UWG's debate team to a tremendous start of the season at the national circuit opener at Georgia State University.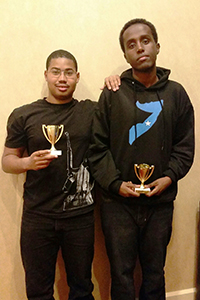 Competing against more than 130 teams from across the nation, Hakeem and Khalid tied for fifth place after defeating teams from University of Georgia, Dartmouth, Northwestern, Wake Forest, and University of Kentucky.

"We were thrilled with the results from Hakeem and Khalid at GSU," said Dr. Michael Hester, director of UWG Debate and executive director of special programs. "This was their first tournament together, and Khalid has just transferred to UWG this semester, so we were expecting them to round into form later in the season."

Their tournament ended with a loss to Harvard on a 2-1 decision in the quarterfinals. The eight universities represented in the quarterfinals were: UWG, Emory, Georgetown, Harvard, Kentucky, Michigan, Northwestern, and Wake Forest.

"Hakeem and Khalid are both great to coach," said Dr. Hester. "They are intelligent, and hard working, and easy to get along with even in the stressful circumstances of heated competition."

Hakeem was also recognized as the eighth place individual speaker, while Khalid was 20th out of 266 competitors.

"I am involved in policy debate as an extension of my social activist work which involves organizing against social injustices," said Hakeem. "As a result, my goal this year is to be able to effectively articulate and bring to larger audiences the various social justice issues that exist within the field of international relations. It is a great feeling to be victorious on arguments that stem from scholarship dedicated to combating oppression."

This year's resolution is "The United States should significantly reduce its military presence in one or more of the following: The Horn of Africa, Northeast Asia, the Arab states of the Persian Gulf."

UWG Debate will compete at the University of Kentucky tournament October 2-6.
Posted on