by Taylor Bryant
UWG Debate has yet again started the 2016-17 among the nation's elite. The teams of Gershom Chan and Nick Charles, both sophomores from Chicago, and junior Thomas Jordan and senior Josh Michael, both from Carrollton, successfully competed against 200 teams at the first two major tournaments of the intercollegiate season, hosted by Georgia State University and the University of Kentucky.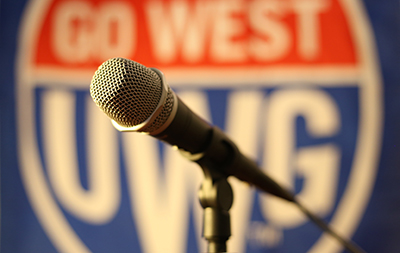 After two days of preliminary rounds, only the top 32 teams earned spots in the elimination rounds. And after two tournaments, only 11 schools have competed in the elimination rounds of both majors: Cal-Berkeley, Emory, Georgetown, Harvard, Kansas, Michigan, Michigan State, Northwestern, Pittsburgh, Wake Forest and UWG.
"As the only regional comprehensive university to accomplish this feat, successfully competing against the very best research institutions in the country, UWG Debate exemplifies our campus' vision to become the best comprehensive university in the nation," said Dr. Michael Hester, director of UWG Debate.
Chan and Charles have compiled a winning record and cleared to the elimination rounds at both tournaments, with victories over teams representing Harvard, Michigan, Michigan State, the Naval Academy, Emory, UGA and Wake Forest.
"They are still getting acclimated to the intensity of college debate and the amount of hard work required to truly be great, but we are pleased with their progress so far," said Hester. "We expect that as they continue to develop, their results will only get better. They already have multiple wins over Harvard, Michigan and Michigan State, which shows they have the potential to reach the level of excellence we expect of UWG debaters."
The team of Jordan and Michael reunited at UWG after being debate partners at Carrollton High School. So far this season, they have earned victories over teams representing Michigan, Michigan State, Louisville, Houston, Trinity and George Mason University.
"Tommy and Josh have been great additions to the squad," added Hester. "Their work ethic and commitment to overall squad success are the key ingredients to a winning team culture. We treat the season as a marathon rather than a sprint and believe their dedication will pay off in time for them to qualify for nationals."
This season's resolutions is "The United States Federal Government should establish a domestic climate policy, including at least substantially increasing restrictions on private sector emissions of greenhouse gases in the United States."
The debate season runs from September through March. The team is preparing for October tournaments at Samford and Gonzaga.
Posted on