by Bonnie Butcher
As a study break during finals week, Ingram Library hosted Carrollton resident Sarah Boddy to set up an interactive community crossword puzzle. This event was part of Sarah's Participatory Democrossy Project.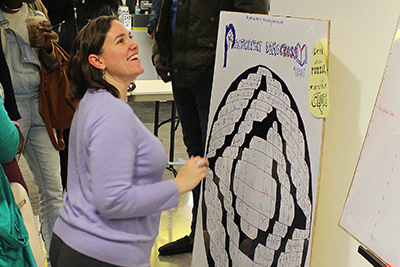 This project stemmed from the issue that the creators of crossword puzzles typically fall into the same demographic, and they're almost always made by one person at a time.
"Participatory Democrossy is about decolonizing the crossword puzzle, and language in general, by subverting who gets to create and how," Sarah said. "We create collaboratively, publicly, and joyfully, and I have to say that the people of Ingram Library were shining examples of collaborative, public, joyful creativity! They wrote subversive, complicated, simple, delightful, heartbreaking clues."
Sarah's project focuses on eliminating bias towards or against topics within crossword puzzles. A puzzle created by a wide range of people promotes endless perspectives and provides opportunities to appeal to a wider audience.
The project begins with a grid Sarah constructs including words that range from humorous to thought provoking. The goal is to step away from traditional crossword answers that can be boring or obscure to the general population.
The next step is to include a whole bunch of different people to create clues. At Ingram Library, students gathered around the crossword board and collaborated to create the entire puzzle.
After all the clues were made, the puzzle was wiped clean. More students were then given the opportunity to guess the answers based on their peers' clues.
Sarah said she hoped this event provided a fun and creative outlet for students during the stress of finals week.
"There is something so beautiful about strangers standing and thinking about words together--it gives me life and I hope it does so for participants as well," she said.
Posted on