The University of West Georgia has been recognized among the nation's top universities in meeting student needs, and its business, nursing and education programs have been included among the country's most effective in a new publication from Colleges of Distinction.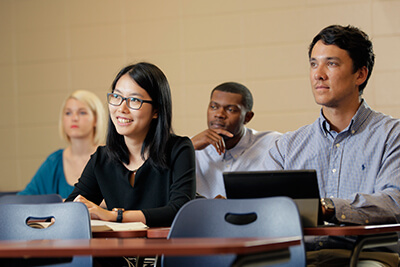 For 15 years, Colleges of Distinction has provided a trusted resource for more than 40,000 guidance counselors, thousands of parents and students, and hundreds of colleges and universities from across the country. The organization says its mission is to help parents and students find not just the best colleges, but also the right colleges.
"Being recognized by Colleges of Distinction is significant in that inclusion is based on our being the right fit for students," said Dr. Scot Lingrell, UWG's vice president for Student Affairs and Enrollment Management. "We're not highlighted as the top in a region or in the nation, but as a university that best meets the needs of our current and potential students."
The recognition process goes beyond traditional ranking models that assess colleges based on historic prestige, selectivity, athletic prowess or endowment. Instead, Colleges of Distinction recognizes the hundreds of smaller, teaching-centered colleges that make up the fabric of the American educational system. Schools are considered on how well they meet four overarching distinctions—engagement, teaching, community and outcomes—which are the fundamental elements of an effective undergraduate education.
"These pillars line up with our own imperatives, which makes the recognition even more meaningful," Lingrell said. "Everything we do is targeted at building success for our students, academics, partners and operations."
"We are ecstatic to celebrate the University of West Georgia for its exceptional commitment to student success," said Tyson Schritter, chief operating officer for Colleges of Distinction. "Building upon its extensive liberal arts curriculum, as well as its impressive engagement of high-impact practices, UWG continues to stand out through its stance as a leader in professional education."
Schritter said the new field of study badges awarded to UWG's business, nursing and education programs were granted after a comprehensive vetting process, selecting schools based on such qualities as accreditation, breadth of program and a track record for success.
"The 21st-century job market demands employees who are both stellar communicators and critical thinkers, and it is with UWG's well-rounded approach to career development that its students are especially prepared to take on the postgraduate world," Schritter said.
Posted on