by Amy K. Lavender
University of West Georgia students walked through a sea of trash last week in an effort to educate others about recycling.
As part of UWG's participation in the nationwide Recycle Mania challenge, students, faculty and staff teamed up to organize a dumpster "dive" to demonstrate just how much trash on campus could go to recycling centers. More than 3,000 pounds of trash was dumped next to Ingram Library, a central location on campus, and sorted by approximately 250 students.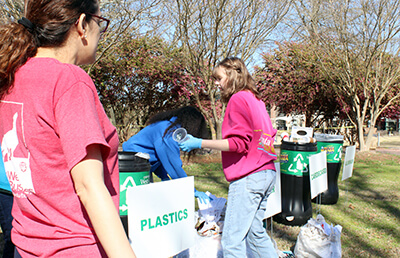 Students who participated represented a variety of fields and disciplines, including business, environmental sciences and literature.
"Richards College of Business is really focused on the ethics culture of sustainability, so this really feeds into that," said economics major Jacob Stanfill. "After all, the university, at its roots, is a business, so it's great to see how much waste is going out and how much we could be saving by proper sustainability practices."
Stanfill is in Assistant Professor Susana Valez-Castrillon's social corporate responsibility class, which will be extrapolating how much money is unknowingly being thrown away every day on campus based on the recyclable material the event produces and the number of trash receptacles on campus.
"One of the easiest things for a business to do for sustainability when you're starting that conversation is recycling because if you're not recycling, it's costing you money," Valez-Castrillon said, "so I thought it would be a good opportunity for them to see the waste and do a waste audit."
English Instructor Ashley Dycus saw the event as a teaching opportunity as well.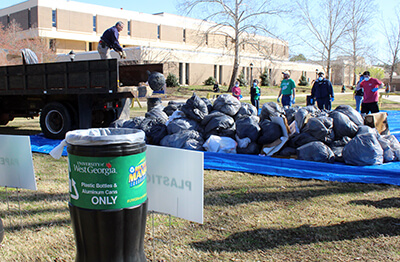 "I brought my students because, in English 1101 and 1102, we're reading articles about recycling and sustainability," Dycus said, "so it ties in with course content and gives them a way to connect what we're doing in the classroom with the outside world and a different perspective on those texts."
International student Eva Fix, who is pursuing her master's in business law at UWG in partnership with the University of Oldenburg in Germany, said she was excited to take part in the event.
"At home it [recycling] is something that everyone does," Fix said. "I think it's good to raise awareness of what it's really worth. It's not just trash. It has certain value, and it can be reused and recycled. I think that's a really important lesson to learn."
The campus community will have more opportunities to participate in Recycle Mania as the end of the contest draws near. Faculty and staff are currently competing in an inter-campus recycling contest to see which department can recycle the most material. Anyone interested in participating can email recycle@westga.edu to have a special recycling bin delivered to their office.
Posted on