by Colton Campbell
Kim Holder was about to give up on her undergraduate degree for the fifth time when she received a letter that changed her life.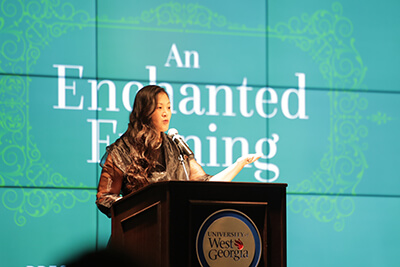 The email informed her she'd received a University of West Georgia Foundation scholarship. That meant the difference between her having to move on from pursuing her dreams for what would likely be the last time and finishing her degree in economics.
"The generous donors who have blessed UWG through the years are the only reason I'm here today," said Holder '08, a lecturer in the Richards College of Business who spoke during the university's fifth annual Presidential Scholarship Gala, held as the culmination of Homecoming weekend. "They believed in me when I honestly didn't even believe in myself. They opened their hearts – and wallets – to make my 'Once Upon a UWG' come true."
Holder was one of nearly a dozen scholarship recipients who spoke during the gala, which brought together nearly 300 community, business and educational leaders to raise more than $122,000 to support need-based scholarships. The theme of the event – "An Enchanted Evening" – reflected the fairy-tale theme of Homecoming 2018, "Once Upon a UWG."
During his remarks, UWG President Kyle Marrero shared the importance of scholarship support for transforming student lives and futures.
"I am delighted to be part of such a giving network of supporters in which community, faculty, staff and alumni come together for a single cause – to raise funds for need-based student scholarships," said Marrero. "These gifts of opportunity truly transform the lives of our students."
Approximately 88 percent of UWG's students receive some form of financial aid, Marrero said. More than 53 percent are eligible for a Pell grant, meaning their average family household income is approximately $25,000, and 49 percent of UWG students are first-generation college students.
Dayzia Gray is one such first-generation student. Gray is studying marketing and said receiving a scholarship from UWG was one of the best things that's ever happened to her.
"As a first-generation college student, it was hard to understand the financial aid process and find ways I would pay for school," said Gray. "By receiving this scholarship, the amount of student loans I had to take out was reduced drastically, and instead of having to work and worry about how I'll be able to pay for school, I've been able to focus on academics and get more involved on campus. I'm extremely grateful for the opportunities I've been given because of this scholarship."
Holder, who was originally born in South Korea and abandoned by her biological parents at birth, told the story of how she ended up in Carrollton attending UWG.
"After several false starts, I learned that UWG had launched a program in which I could work on my core classes completely online, eCore," Holder said. "I finished chemistry lab assignments on my kitchen counter. I completed a public speaking class via VHS tape. History, psychology and math homework – all of this was completed by nightlight as I sat by my sons' cribs."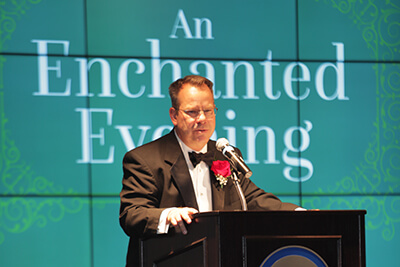 All of this work was worth it, though, said Holder, who also serves as the director of UWG's Center for Economics Education and Financial Literacy in addition to lecturing in the Department of Economics.
"The students I teach are brilliant, but they need that bit of hope that a scholarship can provide," Holder said. "I'm not the only UWG student or alumna who has a special story. Each one has untapped gifts they're ready to leverage to better our society. We just have to open the door. If you don't remember anything else I say, just remember these two words from me and every other student whose life you've changed with your generosity: thank you."
The program was followed by live music and dancing. Planning for next year's gala will begin soon.
"Each year brings more students to UWG, with new dreams and heightened aspirations," Marrero said. "We look forward to supporting these students on an ongoing basis through our annual scholarship gala."
Posted on