by Taylor Bryant
The University of West Georgia reached another record-breaking student enrollment with 12,834 students for Fall 2015. Enrollment for the university increased 5.1 percent from last year's 12,206 students.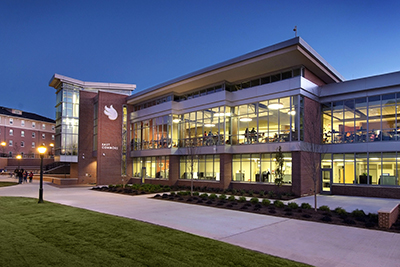 "We are excited to experience record enrollment for several consecutive years," said UWG President Kyle Marrero. "We've continued to work diligently as a collaborative team to ensure that our marketing, recruitment, retention, progression and graduation efforts support student success, and we applaud the students and parents who made the choice to 'Go West.'"

The UWG total enrollment number includes 10,753 undergraduate students and 2,081 graduate students. Of the total, 3,335 are new undergraduate students.

"There are many factors that go into record enrollment," said Dr. Scot Lingrell, vice president for Student Affairs and Enrollment Management. "The majority of them revolve around the committed people at UWG doing great work to help potential students understand what a great place West Georgia really is. Other components include effective marketing and dedicated, hard working people who spend countless hours serving students through the recruitment, retention and progression processes. Student success is at the core of it all."

Dual enrollment at UWG also saw record-breaking numbers this year. There are currently 365 high school students taking at least one class at UWG.

UWG focuses on attracting not only top performing high school seniors, but transfer students, veterans, non-traditional adult learners and graduate students.

At UWG, students can enroll in 86 programs of study at the bachelor's, master's, doctoral and certificate levels. The university currently enrolls students from all over Georgia, the U.S. and 75 countries.

"At UWG, we aspire to be the best place to work, learn, and succeed," said Marrero. "This means attracting the best and brightest students and maintaining an engaging experience by which they can develop into successful individuals. We are indeed in the business of transforming lives at all stages of the student experience, as we strive to become the best comprehensive university in America.
Posted on