The University of West Georgia's fall commencement ceremonies will be held on Saturday, December 12 at 9 a.m. in UWG's Coliseum. For those unable to attend the ceremony in person, it will also be streamed online at www.westga.edu/commencement.php. Southwire CEO Stuart Thorn will be the keynote speaker.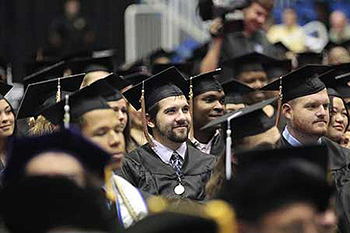 With a 20-year legacy of high-impact accomplishments in executive leadership, Stuart leverages a career of financial and operational savvy to deliver record profitability across divisions and around the globe. As president and chief executive officer of Southwire Company, one of the world's largest producers of electrical wire and cables, Stuart directs all North American operations, overseeing international business, legal, finance, information technology and human resources.
As Southwire's first non-family chief executive officer and a member of the board of directors, Stuart has lead Southwire to 300-percent growth in revenue to $5.2 billion. As the company has pioneered new technologies that have shaped the wire industry, it has attained recognition from key partners and publications. Honored as Manufacturer of the Year by the Technical College System of Georgia and the Georgia Department of Economic Development (2013), the Best of the Best Marketer in the Electrical Industry by tED Magazine (2012) and Green Supplier of the Year by Pacific Gas and Electric (2009), Southwire has been recognized as Home Depot's Electrical Supplier of the Year six times between 2002 and 2012. In 2014, the Copper Club named Stuart its Copper Man of the Year, the copper industry's highest honor, and presented him with the club's Anhk Award.
Prior to his career with Southwire, Stuart served as chief financial officer and president, and later as chief operating officer, of Beaulieu of America, Inc., the largest family owned flooring company in the world. He served on the boards of directors for two of Beaulieu's affiliated companies, one of which was public. Developing and executing strategies for all operating divisions and corporate functions, Stuart doubled sales and profits within three years, directing four major acquisitions and leading Beaulieu to $1.8 billion in revenue. A veteran executive of multi-national Fortune 500 companies, Stuart served in leadership positions with Campbell Soup Company, Inc. and SC Johnson, producer of Windex®, Ziploc®, Saran Wrap® and other household brands. As vice president of international finance for Campbell Soup Company, he led two acquisitions and directed the global expansion of the company. His tenure with SC Johnson spanned 16 years, progressing through titles including cost management analyst, corporate acquisitions director, regional controller for African and Near East markets and director of finance for North America consumer products.
Stuart completed his master of business administration degree in finance and decision science at the University of Pennsylvania's Wharton School in 1979 after obtaining his bachelor of science degree in economics, graduating magna cum laude. Today, he serves in a leadership capacity on numerous boards and executive committees, including the National Electrical Manufacturers Association (NEMA), Electrical Manufacturers Club, the Curtiss-Wright Corporation Board of Directors, the University of West Georgia's Richards College of Business, International Cable Federation Board and Copper Development Association Board of Governors. He also serves in leadership roles on various civic organizations, including Great Promise Partnership in Georgia. A published songwriter and journalist, Stuart enjoys music, writing, art, photography, architecture and, most importantly, spending time with family.
On the day of graduation, every guest, including children and infants, will be required to provide a ticket upon entrance. Extra tickets, if available, may be picked up at the Coliseum beginning one-and-a-half hours before the ceremony. Seating is not reserved. Guests with disabilities are encouraged to arrive at the Coliseum at least one hour prior to the ceremony. Accommodations for guests with disabilities include handicap-accessible parking and special seating. For more information, please visit www.westga.edu/registrar/460.php.
Posted on