by Sarah Powell
The transition to college can be challenging for first-year students. UWG's First Year Academic Programs aim to help students with the adjustment.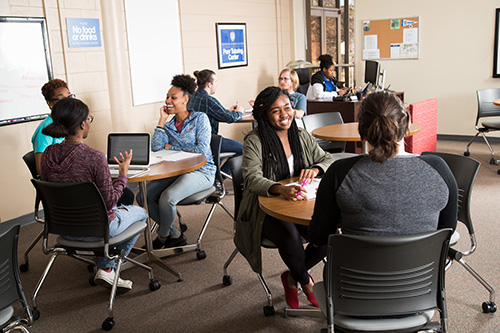 Each year, the University of West Georgia offers nearly 70 courses exclusively for its first-year students. Known as first-year seminars (FYS), these special courses are taught by some of UWG's most passionate instructors.
Many colleges and universities offer FYS courses, but UWG's approach differs from most.
"UWG's FYS is unique to the University System of Georgia (USG)," said Dr. Ryan Bronkema, director of first-year academic programs. "It is not a 'how-to-college' course, but instead, it is a course built around intellectual curiosity and excitement for learning."
Taught by faculty from departments all across campus, FYS courses focus on niche topics that pique students' interests. Examples include: What Do You Know About Walt Disney, #adulting, Food and Culture in Japan, Sports Movies and Their Impact, and many more.

"FYS courses count for general education credit, so they are applicable to every degree at UWG," Bronkema noted. "This flexibility gives students an opportunity to learn about a topic they enjoy while earning credit toward their degree."
The courses enroll a maximum of 22 students per class, offering a welcoming environment to bond with fellow students and faculty. No matter the topic, each course provides practice with critical academic skills that increase student success as well as career reflections and access to educational resources such as the Center for Academic Success and the University Writing Center.
The best part about UWG's unique approach to FYS? It's working. Over the last two years, UWG students who have participated in FYS courses have been more academically successful than their peers who did not take an FYS course.
"Our FYS faculty are excited to work with new students to help them be as successful as possible in the classroom," Bronkema concluded. "Each class is designed to be not only interesting and engaging but to help students hit the ground running in their first semester."
To learn more about FYS, visit westga.edu/administration/vpaa/first-year-programs.php.
Photography by Steven Broome
Posted on