by Colton Campbell
Thirty-five sheets of computer paper blanket one wall of University of West Georgia Police Chief Tom Saccenti's office.
The pages – the each bearing a short description of a program members of his force would like to see enacted – overlap each other, creating a patchwork of initiatives, ideas and new technologies.
On another wall, behind his office door, hang 12 pieces of paper with goals that have been reached. Each bears a handwritten date showing when the task was accomplished.
It's the UWG Police vision board. Saccenti plans to move each page – and more that get posted as new ideas are shared – to the "done" wall.
New leadership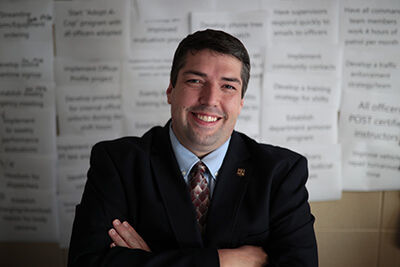 At the start of his career, Saccenti served as a municipal police officer, a job that lasted nearly a decade. For the past 10 years, he has worked on college and university police forces. He started the second half of his career wanting to earn his bachelor's degree at a reduced cost, with no intention of staying in higher education.
"But, I fell in love with it," he said. "My background is in youth ministry. Where I worked when I first started policing at a college, I was a youth pastor in the town. I found out quickly being a youth pastor and being a college police officer are really the same thing. You're dealing with 18-year-olds in a crisis."
Saccenti took the oath of duty on his 18th birthday, after a childhood of counting officers among his heroes.
Public service runs in the family as well. All four of his siblings have dedicated their lives to helping others as a military doctor, medical missionary, therapist and youth pastor. The desire to serve also reaches across generations, as Saccenti's father runs a community counseling center and his mother is a director of nursing.
In addition to his time at Furman, Saccenti has served as chief of police at Marietta College in Marietta, Ohio; director of campus safety at Trine University in Angola, Ind., and police chief of the Pioneer Police department in Ohio. He has taught criminal justice classes at community and technical colleges.
New ideas
It's been six months since Saccenti took over the role of police chief at the university, leaving the same job at Furman University in Greenville, S.C. Any expectation he might have had there would be a difference between leading a private university's police force and one of a public university disappeared the day he got to the UWG campus.
"It's not different at all," he said. "The absolute mission, job and goal of these students are exactly the same. They want to get educated and get jobs."
The chief said he walked into a "really good spot" when he started Sept. 1.
"We have great officers who are very talented in a multitude of different areas," he said.
Before coming to West Georgia, Saccenti sent a survey to the members of the force, asking them to rate where the agency stood — what they liked about being UWG police officers and what they didn't like.
"I wanted to get a feel for the culture I'd be walking into," Saccenti said. "Under each question, I asked them to make comments or suggestions. I ended up with about 450 comments, which I organized and consolidated. Out of that came about 50 goals for the police force that I could really say the members of my force want to see happen."
That's where the pieces of paper on Saccenti's walls came from.

For the last six months, he has built upon previous efforts to develop engagement between officers, students and others on campus.
"We want to dive deeper into our relationships with students, so, if there's a problem or disagreement, they trust us enough to come to our office and talk to us," Saccenti said.
To facilitate those relationships, officers step out of their patrol cars, turn on their body cameras and have normal conversations with five people — students or faculty and staff members — every shift they work.
"This allows them to have conversations and show their regular personalities," Saccenti said.
In addition, each of the department's 33 officers is assigned to a specific residence hall floor to establish a presence in students' lives.
"Splitting up the different residential floors has created an environment in which the officers are consistently seen, and they engage in the student activities," Saccenti said. "I want each residential student to know - and trust - at least one officer. The time to establish that relationship with them is now."
New vision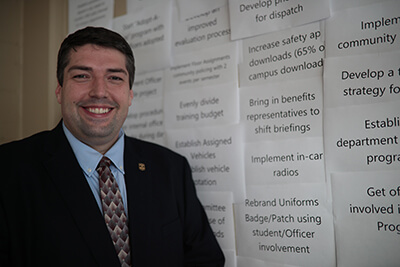 Saccenti's vision for UWG police mirrors that of the university as a whole - to be sought after as the best police department to work for in the nation.
"That's our goal - for officers from across the country to want to come here to work," Saccenti said. "We're not there yet. However, with the community support I've seen in my six short months here, and as we establish seniority and enhance engagement with students, faculty and staff, we become a better agency every single day."
Saccenti shares UWG President Kyle Marrero's goal of making UWG the safest campus in Georgia.
"There's no doubt that the safety of our students, faculty and staff is our top priority," Saccenti said.
Additionally, students can expect a transparent chief and department. Saccenti said he enjoys talking with them and learning their concerns, ideas and suggestions for how the department can serve better.
"Many years ago, I read this statement and have made it my motto," Saccenti said. "'The student is the most important person on this campus. Without them, there would be no institution. They are not to be hurried away so we can do our own thing. They are not an interruption to our work but the purpose of it.'"
The chief envisions an environment in which his officers are part of the education process for UWG students.
"Our officers value our students," Saccenti said. "We want our students to feel the same way - to see us as a value to them. That will give our officers not only a morale boost, but also the affirmation that their jobs really matter. All these initiatives, technologies and ideas work toward a greater sense of community in which all students, faculty, staff and those who come to our campus are able to in a safe and secure community environment."
Posted on