by Gary Leftwich
Destinee Berry spent nearly three years living with her single-parent mother and siblings, shuffling from motel to motel. Very little money existed for things beyond basic living expenses. So, when she fell short trying to pay tuition at the University of West Georgia, Berry figured her dream of earning a college degree was over.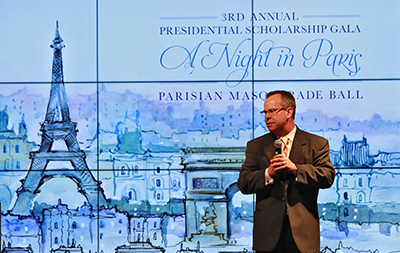 "I was in tears, talking to the lady in financial aid," Berry told a crowd of more than 300 gathered for the university's third annual Presidential Scholarship Gala on Oct. 22. "She told me I had received a presidential scholarship. I thought 'This isn't the time to be joking.' But she showed me where I had the scholarship, and I knew I could stay in school."
This year's gala raised a record $104,050 to fund need-based scholarships, which help students who owe $1,000 or less and have no other source of funds available. Often the gap is less than a few hundred dollars.
"Thanks to you, I am able to stay in school," said Berry, one of 10 scholarship recipients who shared their stories.
Story continues below ...
"The support of our sponsors provides the opportunities for us to help foster student success," UWG President Kyle Marrero said. "Through your generous support, you are transforming lives."
Nearly 85 percent of the university's students receive some form of financial aid, according to Marrero. Almost 70 percent are eligible for a Pell grant or federal student loan.
"Forty percent of our students are the first generation in their families to attend college," Marrero said. "Your gifts are helping them achieve that goal."
Some 20,000 to 30,000 students are being removed each year from the rolls of Georgia's state universities and technical colleges for unpaid bills, according to the University System of Georgia (USG).
"Many of our students are on the cusp, financially, of not being able to go forward," said USG Chancellor Hank Huckaby. "We have instances where they are a tire blowout away from having to drop out of school. Those stories are real and they are compounded multiple times throughout our system."
Citing Huckaby's commitment to need-based scholarships, Marrero described the chancellor as a tireless champion for students. He then presented Huckaby with a plaque featuring a pair of ruby slippers – reflecting the university's homecoming theme of "Follow the Yellow Brick Road" – in honor of the chancellor's retirement at the end of the year. First Lady Jane Marrero serenaded Huckaby with a stirring operatic rendition of "Somewhere Over the Rainbow."
The program was followed by live music and dancing.
"Each year brings more students to UWG, with new dreams and heightened aspirations," Marrero said. "We look forward to supporting these students on an ongoing basis through our annual scholarship gala."
Posted on