For Blake Ricaud, receiving a presidential scholarship from the University of West Georgia signified a strong bond between him and the university - one that stirred him to work harder.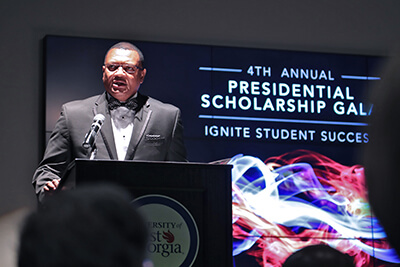 Ricaud was one of several recipients who shared their stories at UWG's recent Presidential Scholarship Gala. Held as part of the school's homecoming weekend, the gala raised more than $183,000 to provide needs-based scholarships for students like Ricaud, for whom $10 to $1,000 could mean the difference between graduating or not.
"The scholarship was a firm handshake. It reaffirmed that the University of West Georgia held me tightly, respectfully," said Ricaud, a sophomore majoring in applied mathematics. "The pressure was on me to refine myself from coal to a diamond. I felt inspired. I shine as a beacon of hope to those who are uninspired, unmotivated, and underdeveloped. I used the rewarded amount to pay for the materials necessary for a successful semester. I am humbled, but I am proud. I am in the eve of my youth, but I am in the dawn of greatness."
Nearly 85 percent of UWG's students receive some form of financial aid, according to President Kyle Marrero. Almost 70 percent are eligible for a Pell grant or federal student loan.
"Forty percent of our students are the first generation in their families to attend college," Marrero said. "Your gifts are helping them achieve that goal."
Some 20,000 to 30,000 students are removed each year from the rolls of Georgia's state universities and technical colleges for unpaid bills, according to the University System of Georgia (USG). Making needs-based scholarships a top priority this year, the USG has provided an unprecedented $1.1 million in awards this year alone.
"I honestly did not think that I was going to make it this far, because financially I could not afford books and tuition," said business management major Jakeesa Arnold, who will be the first in her family to graduate from college. "Thanks to the president's scholarship I can continue my path and stay on track. This scholarship is the reason I can be less stressed and more enthusiastic about graduating next spring."
"The scholarship helped me stay in college," Jasmine Rutledge, who also will be the first in her family to graduate told the crowd. "I was really close to giving up because I didn't have the funds. The scholarship was really a blessing to me. Now I'm more motivated than ever to succeed and graduate one day."
Circumstances were just as difficult for Alexandria Miller, whose mother recently passed away after the previous death of her father.
"I really thought I was going to have to quit school," Miller said. "Being alone with no money is hard, but, thanks to the presidential scholarship, I will be able to pursue my dream to be a counselor."
"Each year brings more students to UWG, with new dreams and heightened aspirations," Marrero said. "We look forward to supporting these students on an ongoing basis through our annual scholarship gala."
Posted on