Recycling is something everyone can do. In fiscal year 2016, the University of West Georgia recycled 272,034 pounds of material. Of the materials recycled, there was an increase in sorted office paper and plastic bags compared to 2015.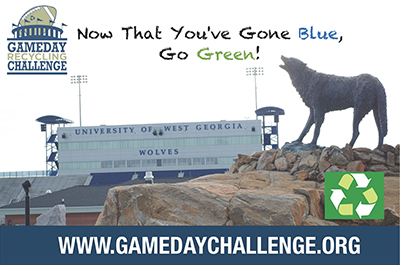 How can you help recycle on campus? Make sure you are doing your part by placing paper in blue bins located in administrative offices, dropping plastic bottles and aluminum cans in any of the large Coca-Cola bottle-shaped recycling receptacles, or by contacting Custodial or Auxiliary Services when you have large amounts of used cardboard and other recyclables. Additionally, if you have large accumulations of metal, batteries or lightbulbs, the Work Information Center in UWG Facilities will collect those from you by giving them a call.
Students, faculty, staff and visitors can also join in the GameDay Recycling Challenge. This nationwide competition is held among universities to reduce and recycle the waste generated at football games. Participating schools report recycling, composting and attendance data for at least one home football game. Members of UWG Eco Leaders student organization volunteered to help with collections at The Hill before games. During the UWG vs Catawba game, 297 pounds was collected to recycle. At the UWG vs Delta State game, 249 pounds of recyclable material was collected.
UWG Recycle currently employs four part time students. They collect recyclables from containers on campus, outside of the residence halls, dining halls and the UWG Bookstore. They also represent UWG Recycle at the Eco Leaders and Sustainability Council Meetings.
Sustainability is one of the eight UWG core values. Recycling on campus reduces the amount of waste we send to local landfills, conserves our natural resources and improves the campus environment for future Wolves.
Posted on