by Colton Campbell
Ten inches of snowfall over the weekend couldn't keep approximately 750 graduates from turning the tassel at the University of West Georgia Sunday.
Commencement ceremonies were held at the UWG Coliseum at 2 p.m. for students graduating from the College of Education, the Richards College of Business and the Tanner Health System School of Nursing, and at 6 p.m. for graduates from the College of Arts and Humanities, the College of Science and Mathematics and the College of Social Sciences.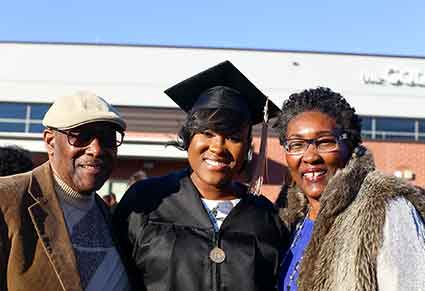 A record number of nearly 900 undergraduate and graduate degrees were conferred for the fall semester Sunday, according to preliminary numbers, with approximately 750 candidates for graduation participating in one of the two commencement ceremonies.

Southwire President and CEO Rich Stinson served as the keynote speaker for the first ceremony Sunday. Stinson challenged all graduates to maintain their good work ethic and work through adversity after graduating.
"I challenge you to find out how you're going to go from being good — which you all are, or you wouldn't be sitting here as graduates right now — to being great," Stinson said. "You're walking away today with a clean slate. It's up to you to take all the opportunity you've been given and do something great."
The number of graduates is a record for a fall semester graduation at UWG. This is the first year two ceremonies have been required in the fall, a practice formerly reserved only for spring commencement. The ceremonies were postponed from their original date Saturday because of inclement weather and adverse road conditions.
President Dr. Kyle Marrero shared numerous points of pride with all in attendance during the ceremonies, telling graduates that when UWG succeeds, the value of their degrees increases.
"We are excited to have conferred more degrees this year — 2,612, to be exact — than we ever have in the history of the University of West Georgia," Marrero said. "We're seeing historically high four- and five-year graduation rates, which is a great thing for both students and the families that support them."
Stinson is president and CEO of Southwire. He joined Southwire in October 2015 and, in his current role, leads the company's strategy and efforts toward sustaining a multi-generational future. He has previously worked as group president of electrical systems and services for Eaton Corporation and in a variety of roles for the Westinghouse Manufacturing Development Program.
Stinson serves on the boards of the National Electrical Manufacturers Association (NEMA), International Cable Federation (ICF), Copper Development Association, Carroll Tomorrow, University of West Georgia Richards College of Business, University of Pittsburgh Electrical and Computer Engineering School and the Board of Governors for the state of Georgia.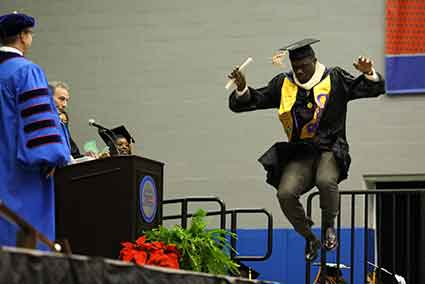 Stinson has more than three decades of experience in industrial manufacturing and holds a bachelor's degree in engineering from the University of Pittsburgh.
"I've been trying to remember what I was thinking about when I was sitting at my college graduation in 1977," Stinson said. "I can't remember what I was thinking exactly, but I'm sure I had the same sense of hope and desire to achieve great things that you all have right now."
Stinson had several pieces of advice for graduates, telling them to give back when they can, remember their roots and eschew complacency.
"This is your moment to begin your journey to becoming great," Stinson told graduates as he concluded his remarks. "I want you to take the magic you've been a part of here at the University of West Georgia and share it wherever you go. Be proud and make a difference in the world."
Posted on