by Colton Campbell
The University of West Georgia conferred more than 900 degrees during two commencement ceremonies Saturday, with keynote speaker Sen. Mike Dugan imploring graduates to "take a more holistic look on life."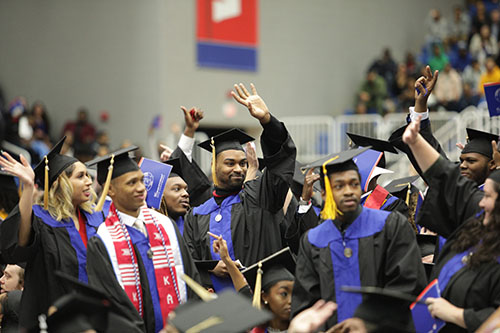 Dugan said the measure of graduates' success has until now been dictated to them their entire educational lives – by their grades and achievements in extracurricular activities. From now on, though, they will measure success for themselves.
"Your future jobs will provide financial security for you and your family, but nothing will fulfill you like changing the life of another human being," Dugan said. "Life is all about using your energy in a meaningful way to benefit the world around you – knowing that the world starts with the person right next door."
Commencement ceremonies were held at the UWG Coliseum at 9 a.m. for students graduating from the College of Arts and Humanities, the College of Social Sciences, the Tanner Health System School of Nursing, and University College and at 2 p.m. for students graduating from the College of Education, the College of Science and Mathematics, and the Richards College of Business.
More than 650 students walked across the stage Saturday. Of the 919 degrees conferred, approximately 280 were at the graduate level, with the remainder at the undergraduate level.
Dr. Micheal Crafton, UWG's interim president, shared numerous points of pride for the university during his remarks, telling graduates their relationship with the university has just begun.
"What this institution has done for you has already changed your lives, but what it will do for you will make an even bigger difference," Crafton said. "For the next 50 years, certainly throughout your careers, we will be joined together. When West Georgia excels and succeeds, the value of your degree increases."
Khareem Leslie, president of UWG's Student Government Association, asked graduates to fully utilize their degrees after graduation.
"As you go out into the real world, let the world know what it means to be a Wolf," Leslie said. "Let them know what you've been working toward since you were a kid. Before you leave today, I want to challenge you to continue overcoming barriers and stay on those journeys that push you past your potential."
Dugan, majority leader in Georgia's state Senate and UWG alumnus, addressed students in both ceremonies.
"Today is the culmination of 16 years of your education, and I know each of you is eager to collect your diplomas, throw your cap and celebrate with your family and friends," Dugan said. "You've proven to yourselves and to everyone here you're capable of accomplishing so much."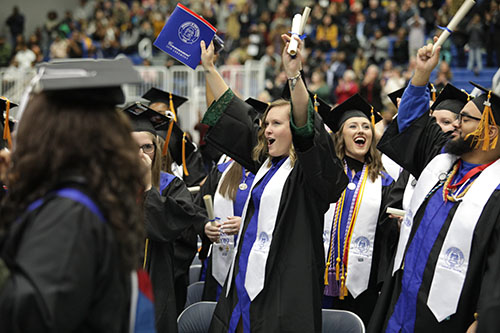 Dugan currently serves as the majority leader for the Georgia State Senate and represents district 30, which includes parts of Carroll, Douglas and Paulding counties.
A native of Bowdon, Georgia, Dugan holds a bachelor's degree in history and a master's degree in organizational development, both from UWG.
After graduating with his bachelor's degree, Dugan enlisted in the U.S. Army. He was commissioned as a second lieutenant in the infantry. Over the course of his 20 years of service in the Army, Dugan was deployed to more than 32 countries including Iraq and Afghanistan. He retired as a lieutenant colonel in 2008.
Dugan, a father of two, said he knows firsthand how proud the thousands of loved ones who attended the ceremonies are of their graduates.
"Your parents, mentors, teachers, family and friends have been there through every step, and I know you have made each and every one of them proud today," Dugan said. "I'm also confident this will not be the last time in your lives you will have this impact on the people around you."
Photography by Julia Mothersole
Posted on