by Julie Lineback
Several representatives from the University of West Georgia attended the Georgia School Counselor Association's Annual Conference in Augusta in November. The theme for the conference was "A Voice for Students."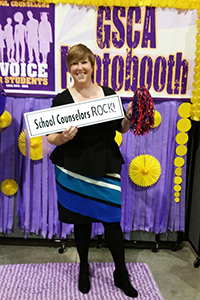 Erin Layton, senior admissions representative for guidance counselor communications at UWG, led a presentation with the University of Georgia's senior assistant director of admissions, Wade LaFontaine, called "Advocating for Your Applicants." The workshop was designed to help counselors understand differences between selective and non-selective university admissions processes, deferred action students and the challenges they face in the admissions process, changes to the SAT, and important FAFSA information.
"High school counselors are working tirelessly day in and day out to help their students succeed," Erin said. "Admissions representatives and counselors are both working towards the same goals. We want the students to be successful in the post-secondary setting that is the best match for them."
Erin explained that the presentation provided a unique opportunity for the counselors to have their specific questions answered by knowledgeable admissions representatives from two institutions in the University System of Georgia system. They were able to personally address questions about the admissions processes at both school, how the Hope Scholarship credit is assessed and applied, and help the counselors anticipate any other issues they might encounter while helping students navigate the system.
"We believe that counselors are some of the main influencers in helping students choose their post-secondary education," Erin continued. "By building relationships with these valuable institutional partners we can provide them resources and allow them to assist prospective students to consider if Going West is the right fit for them."
Drs. Susan Boes, Julia Chibbaro, and Michael Keim of UWG's College of Education also presented at the conference. Their presentation, "A Counselor's Voice for Students," focused on how counselor's can better advocate for the students they represent.
"Professional school counselors who embrace advocacy are those counselors who are willing to take risks in meeting the needs of students, who help families grow through empowerment, who agree to advocate for the profession on behalf of students and others, and are able to analyze ethical laws and principles which are needed for solving problems," advised Dr. Chibbaro.
The Georgia School Counselors Association (GSCA) is a private, non-profit association comprised of school counselors, counseling and guidance directors, supervisors, administrators, counselor educators, and other individuals involved in related activities who have an impact on a student's success and well-being at school, work, and home.
Posted on