by Gabriel Guzman
At four years old, a young boy skipped school for the first time. Little did he know that in that moment, he would discover his life's passion. On that day, his father took him to his business shop where he specialized in creating custom furniture. Together they began constructing more than just materials – they began building his future.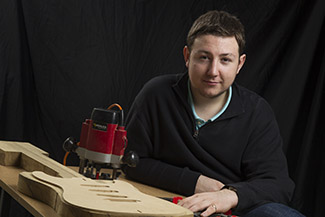 Ian Voegtlin is a freshman at the University of West Georgia, double majoring in physics and applied mathematics. He was born in the countryside of Switzerland but moved to the United States at age 12. His father, a carpenter, and his mother, a musician, together created an incredible skill set that Ian takes pride in. He designs, builds and sells custom guitars.
"My father had his own business, and I had worked there since age four," Ian said. "My mother was very cautious about me using the tools, but my father always insisted upon letting me do it. It worked for me. I learned everything I know today from him."
Ian was 14 when he designed his first guitar. A starting price for one of his custom guitars could cost up to $6,700. It may sound a bit pricey, but it's really a steal.
"If you look into other companies, fairly large ones, you can buy a guitar that was custom built in their shop for $20,000 to $50,000," explained Ian. "I've always had the mentality that if you can't buy it, build it. I took up playing the guitar years ago, and after getting annoyed with my $80 guitar, I wanted something better, but I couldn't afford it. Suddenly, I had something that I could make with wood, and that's where it started."
Inspired by the horses he saw growing up, Ian decided to name his business after them: Cavalo Custom Guitars, Portuguese for horse. He also specializes in restorations, a task that he says is more difficult than designing because he has to work with someone else's idea opposed to designing one from scratch. But even that's not always a simple task.
Ian uses AutoCAD, a drafting software program, to design his work. Creating an intricate instrument, such as a guitar, on the software can take up to 80 hours, and to build it could take anywhere from months to a year.
"What I try to do as a builder is keep myself out of it, in the sense that I try to be objective," Ian said. "I'll practically build anything, but the most fun is building your own stuff."
And he means anything, Ian shares that if a client wants a square shaped guitar, that's what he or she will get.
"I want to be able to live a comfortable life off what I do," Ian said. "If guitars can't provide it, then I'll find something else that can. UWG has provided me with a new insight. Generally, my customers are older, and I cater to older customers fairly well, and I know what they like. With my friends, I am certain to know what they like and what the much younger generation likes in a guitar, and I hope to incorporate that into what I work on."
Ian has not received any orders from UWG students, but he is open to the opportunity.
"If a career with guitars is where it's at, then so be it," he said. "I would love that. Then I would literally be making my passion into a job. I can also see myself working for a large automotive company, or something in mathematics, something in my major. I try to open as many doors for myself as possible."
He doesn't publicize his business through the Internet like most people. Rather he promotes his work through word of mouth, hoping that clients will pass on their experience to others.
Ian's father lends a helping hand whenever he needs it. With love and dedication from his family, Ian has turned a passion into a business, and a business into a possible career.
"In the beginning I couldn't afford the parts to build the guitars, so I would ask for the parts for Christmas," Ian said. "My family has been amazing, absolutely amazing. I have got an excellent family, if I do say so myself."
Posted on