John S. Haven III has been named the University of West Georgia's next vice president of business and finance, effective Aug. 24.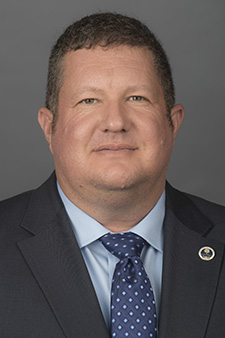 Haven, a veteran of financial management with 17 years of experience in higher education, will join UWG from his latest role as vice chancellor for finance and administration at the University of Wisconsin-Eau Claire.
"I look forward to welcoming John to our university and the campus community," said Dr. Brendan Kelly, UWG president. "He is an accomplished leader who will provide a depth of experience in higher education financial management as we face a future that presents many opportunities for advancement in the marketplace."
Haven will provide leadership and vision for the continuous improvement of business operations, customer service and positioning the university to achieve its strategic objectives including the development of a top-quality student experience with a focus on service excellence.
As vice president, Haven will oversee the university's financial resources and ensure the economic viability of the university, as well as position the university to dedicate resources to achieve its strategic priorities. 

"I am excited about the opportunity to collaborate with the students, faculty, staff and members of the UWG community in my new role as part of the leadership team at the University of West Georgia," Haven said. "From my experience in both the private sector and higher education, I have learned how to be an agent of change within a given structure, and I look forward to aligning my leadership style with the needs of the university as we write the next chapter of UWG's history."
Prior to joining Wisconsin-Eau Claire as vice chancellor, Haven spent 15 years at the University of Florida, serving in a variety of roles, including the executive director of the university's College of Veterinary Medicine. He also worked as a financial analyst in private industry before entering the field of higher education.
Haven, a CPA, earned his master's and bachelor's degrees in accounting from the University of Florida after serving in the U.S. Air Force.
The announcement of Haven's hiring concludes a rigorous and comprehensive national search for a new vice president of business and finance. The search evaluated dozens of candidates and ultimately brought two finalists to the Carrollton campus for interviews with the search team and stakeholders from the Division of Business and Financial Services and other campus partners.
Posted on