by Colton Campbell
Diversity and inclusion are not merely buzzwords at the University of West Georgia. Rather, they are foundational values that guide the efforts of faculty, staff and students across the university.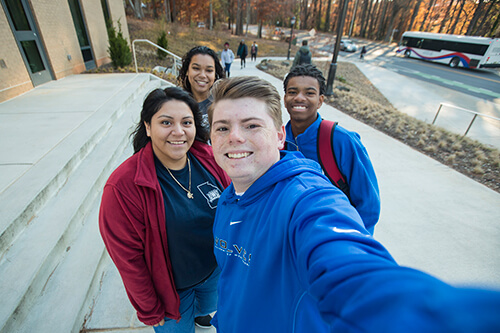 For the second year in a row, UWG has received the Higher Education Excellence in Diversity (HEED) Award from "INSIGHT Into Diversity" magazine, the oldest and largest diversity-focused publication in higher education.
The award, open to all colleges and universities across the U.S. and Canada, measures an institution's level of achievement and commitment to broadening diversity and inclusion on campus through initiatives, programs and outreach; student recruitment, retention and completion; and hiring practices for faculty and staff.
Dr. Micheal Crafton, interim president of UWG, said it is "gratifying and inspiring" to be awarded alongside institutions committed to similar goals as UWG.
"We are humbled to receive this national recognition of our accomplishments in the area of diversity and inclusion again this year," Crafton said. "Diversity and inclusion are at the heart of our mission to introduce our students to different cultural perspectives, preparing them to participate in a global community. Awards like this show the dedication of UWG to creating an environment in which our students, faculty and staff are supported and encouraged to succeed."
UWG also recently ranked No. 53 – second in the state – in universities nationwide in terms of social mobility by the U.S. News & World Report.
The report's social mobility ranking measures how well schools graduated students who received federal Pell Grants (those typically coming from households whose family incomes are less than $50,000 annually, though most Pell Grant money goes to students with a total family income below $20,000).
UWG was one of only 95 institutions to receive the HEED Award, the sole national honor recognizing U.S. colleges and universities that demonstrate an outstanding commitment to diversity and inclusion across their campuses.
Dr. Stacy Boyd, UWG's interim chief diversity officer and associate professor of English and Africana studies, said receiving the award will not allow him or his office to rest on their laurels.
"We are excited and proud to have received this award for two consecutive years, but we can't just be satisfied with the award every year," Boyd said. "We have to keep working to keep moving our progress and our mission forward. Work will continue over the next several years to ensure our faculty is as diverse as our student body."
Boyd said increased diversity in the faculty will likely prove beneficial for UWG students' retention and progression.
"The importance of students seeing professionals from diverse backgrounds excel in their fields is huge, and that's what we're going to be working on in the next few years," Boyd said.
Programs facilitated by UWG's Center for Diversity and Inclusion (CDI) include the African-American Male Initiative (AAMI); the Diversity Champions Action Council; the Presidential Commission on Campus Inclusion; the Multicultural Achievement Program; and the World Festival.
Highlighted in this year's HEED Award application were the AAMI's study abroad experience in Brazil in spring 2019; the CDI's participation in the university's National Association of System Heads (NASH) TS3 grant; and the CDI's Resident Scholars program.
"Research has shown that when a campus is diverse, learning is enhanced and students are more prepared to participate in a diverse, multicultural world," Boyd said. "Overall, a diverse and inclusive campus increases the quality of education for both the students and the university's faculty and staff."
Lenore Pearlstein, publisher of "INSIGHT Into Diversity" magazine, said the HEED Award process consists of a comprehensive and rigorous application.
"We take a detailed approach to reviewing each application in deciding who will be named a HEED Award recipient," Pearlstein said. "Our standards are high, and we look for institutions where diversity and inclusion are woven into the work being done every day across their campus."
For more information on UWG's efforts in diversity and inclusion, visit www.westga.edu/diversity.
Photography by Steven Broome
Posted on