by Amy K. Lavender
Are you a lover of sports? How about a fan of local teams, like the Trojans, the Lions or the Wolves? If so, you don't want to miss the opportunity to hear from local sports legends as part of the traveling Smithsonian exhibit "Hometown Teams: How Sports Shape America."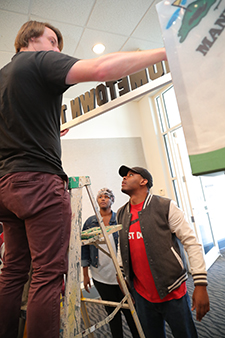 In cooperation with Georgia Humanities, the University of West Georgia will be presenting two discussions as an addendum to the traveling exhibit. The first, set for 2 p.m. on Dec. 4 at the Carrollton Cultural Arts Center (CCAC), will discuss the role of women in sports.
"We'll be discussing how Title IX has shaped women's participation in sports," said Dr. Ann McCleary, director of the UWG Center for Public History. "There's been an increase in women's participation in sports in recent years, especially at the Olympics. It seems like we're finally feeling the impact of Title IX, so we've invited a variety of coaches and players from local schools to talk about their experiences."
Participants in this program will include Haralson County High School basketball legend Clema Billingsly, who was the first female athlete to receive an athletic scholarship to West Georgia College; former Haralson County High School Coach Jane Williamson, who led the women's basketball team to a conference title in 1994; Carrollton Softball Coach and UWG standout Lisa Phillips; former UWG basketball player and current Haralson County Basketball Coach Tammy Norred; and Carrollton High School Assistant Principal and former Cheerleading Coach Susan Gordy.
The second program will be held at 2 p.m. on Dec. 11 at the CCAC and feature a panel of local coaches who will discuss the importance of sports in students' lives, both academically and emotionally.
"The Coach's Corner will discuss the humanities themes that run through coaching and discuss how sports build character and what coaches do to help develop a student's character," McCleary explained.
The Coach's Corner program will feature Carrollton High School Principal David Brooks, who is a former basketball, football and baseball coach; Carrollton High School Basketball Coach Shon Thomaston, who led the 2009 Lady Trojans to a state championship; former Central-Carrollton Football Coach Ronnie Burchfield, who led the team to state football titles in 1986 and '87; and Sylvester Hendrix, who played on the 1954 Carver High Football Team, which won Carrollton's first championship.
In addition to these programs, UWG is also hosting a curator's talk from 3 to 5 p.m. on Dec. 5 at the Bonner House on Front Campus Drive to highlight the "Play by Play: Athletics at West Georgia" exhibit, organized in conjunction with the arrival of the Smithsonian traveling exhibit.
All of these programs are part of the experience the Smithsonian strives to offer residents with its traveling exhibits, which is achieved by tapping local resources, like UWG, the City of Carrollton and the CCAC.
"Georgia Humanities for many years has worked closely with UWG and the Center for Public History," said Georgia Humanities President Jamil Zainaldin. "Our common goal is to 'get it right' in bringing history to the public - whether the subject be foodways, roots music, or in 2016, that special place that hometown teams occupies in our memory of community life."
McCleary and the rest of the Center for Public History staff have helped with the logistics of the "Hometown Teams" exhibit from its initial phases, providing organizational tips and workshops on programming and fundraising to other cities on the schedule, as well as writing the 24-page catalog that travels across the state with the exhibit.
"We have a stellar team here," McCleary said, "and we're so proud to work with Georgia Humanities. It's so much fun and so rewarding to take a national theme to a state level and bring that straight to the community."
For more information, contact the UWG Center for Public History at 978-839-6141 or the Carrollton Cultural Arts Center at 770-838-1083.
Posted on