by Cassady Thompson
When David Lloyd, faculty development coordinator and emerging technologies specialist with UWG Online at the University of West Georgia, received a distress call from his sister during Hurricane Harvey he immediately drove to Houston. Her friend Rosalinda and her family were in dire need of help. What began as a trip to assist one family turned into so much more.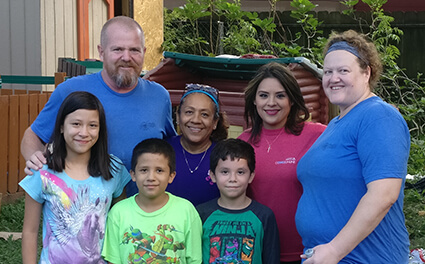 After making the easy decision to go to Houston, Lloyd sent out a mass email to inform his coworkers that he was going. He certainly did not expect the response he received. Many came forward with donations, and one coworker, Wesley Steverson, was extremely heartbroken for those affected and decided to accompany Lloyd.
"I spoke with David over the phone to get more details," Steverson, director of instructional design and development for the University System of Georgia eCampus, explained. "He talked about the families who were seeking help, one being a single mother with a handicapped son and four adopted children. It broke my heart that they didn't have a choice in all of this—they lost their home and there was nothing that they could do. However, I did have a choice, and it was the least I could do to help."
Both Lloyd and Steverson were amazed by how everything fell into place. A friend of Lloyd's sister works for an airline, and she provided them with free plane tickets. A friend of a friend had a truck for them to use. A neighbor even gave them tools.
"In a very short amount of time, people came together to help others they had never met," Steverson said. "When something like that happens, something bigger than yourself, it becomes an easy decision."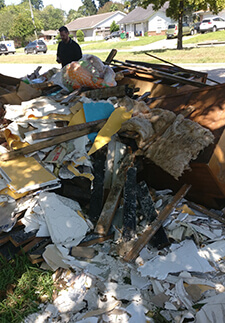 The flood damage they encountered brought out Lloyd's background in construction. He was able to help people so much with things from demolition, ripping out sheetrock, carpets and cabinets to even rebuilding a wall.
"Everything was destroyed—kitchen cabinets, furniture, appliances, everything," Lloyd described. "Rosalinda's car was actually floating. FEMA helps people get back on track, but they don't replace everything. Most people's insurance doesn't cover enough, if the even have flood insurance."
While waiting until they could begin work on Rosalinda's home, Lloyd and Steverson drove neighborhood to neighborhood looking to assist anyone they could. They ended up calling the director of a group of churches to see if there was anyone asking for assistance.
"It was very interesting to hear the stories from people firsthand in the middle of something like Harvey," Lloyd stated. "We see it on the news, but it's not the same thing. It's overwhelming. One street we were sent to had 3 feet of damage on one side and the other side had almost 8 feet of damage."
As stated by both Lloyd and Steverson, they gained so much perspective while serving in Houston.
"Anytime you do something like this, it gives you a new perspective," Lloyd expressed. "It's a huge eye opener. It helps you understand that your life isn't so bad, and little things don't seem so big anymore. I didn't expect any of this. I didn't even expect to be telling this story to anyone. I just went because these people needed help."
For days, they would work in a house for over 12 hours with families who had lost everything. Steverson mentioned feeling hopeless at times. However, there are two specific nights in Houston that he will forever remember and cherish.
"One night, a group of us spent the evening playing board games with a single mother and her two daughters," Steverson described. "I had a blast, and it helped lift everyone's spirits to have a normal night with new friends. My only regret was letting the daughters pick the games—they owned us in every one we played.
"Another night, the same woman asked if we could come to dinner with her family," Steverson continued. "It turned out to be a birthday party for one of her daughters and one of her friends. She had a large family and a lot of friends, so the 'dinner' turned into a celebration. Children were running around and playing, the fathers were grilling, and the mothers made sure that everyone was fed. This might be too cheesy, but in both cases, it was the families that made everything worth it. They might have lost photographs of their families growing up and now be unable to sleep in their homes for months, but they all had each other."
Lloyd and Steverson are humbled by the amount of damage that was done and how strangers reacted to the devastation by coming together as one.
In the words of Steverson, "It was, in the truest sense, awe inspiring."
Posted on