by Sheryl Marlar
As part of a service project for literacy, University of West Georgia Ignite students have painted two playhouses that will be raffled this weekend to benefit the Carroll County Ferst Foundation for Childhood Literacy.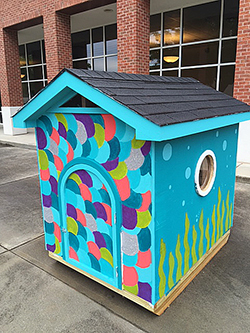 UWG Ignite is a program in which students who are conditionally accepted for fall admission are given the opportunity to demonstrate their ability to succeed in college-level work. The students spend their summer at UWG and take two courses, XIDS 2100 Media and Arts and POLS 1101 American Government. A passing grade in both courses allows the students full admission for the upcoming fall semester.
In addition to coursework, Ignite students get a bit of a sneak peek at college life by living in a residence hall, learning their way around the campus, receiving special attention from professors and staff, and making a network of new friends.
The students chose two books as their artistic inspiration for the playhouses, "A Bad Case of Stripes" and "Rainbow Fish." The playhouses were built by R&R Enterprises in Carrollton.
"Collaborating with campus partners in academic affairs, facilities, and auxiliary services, as well as Carroll County's Ferst Foundation and R&R Enterprises gave our students a unique opportunity to engage in campus life and service learning with outcomes benefiting UWG students, early literacy intervention, as well as Carroll County," said Sarah Jones, assistant director of First Year Experience.
Proceeds raised from the raffle will be given to the Ferst Foundation to purchase children's books for Carroll County children, ages 0-5 years. The Ferst Foundation mails books to children monthly, along with a newsletter directed at parents. Currently, over 3100 children are served by the foundation. And that number continues to grow. The program is 100% volunteer based and is funded through donations and grants.
The houses are on display at the Carrollton Cultural Arts Center and will be raffled at MayFest on Saturday, May 2. Raffle tickets are $5 each, or five tickets for $20. To purchase tickets, contact Melanie McClellan at melmcc@westga.edu, or Sarah Jones at sarahj@westga.edu. Tickets will also be on sale at the Ferst Foundation booth on Saturday during MayFest. The drawing will be held at 4 p.m.
Posted on