by Colton Campbell
Imagine a current University of West Georgia student, Starbucks latte in hand, scanning the stacks of Ingram Library for a specific text.

Now flash back to 1968, and imagine a West Georgia College student searching the shelves for that same book.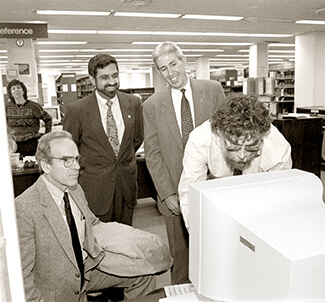 While these two individuals may seem drastically different, look closer and you'll find they share something key in common: they're both looking for answers.

Ingram Library has been the place to find answers for UWG students for 50 years. Now, the social and academic hub of the university is planning its 50th anniversary celebration for later this month.

"For many UWG students and alumni, their fondest memories include Ingram Library," said Shaneé Murrain, university archivist. "It's amazing to think that Ingram has been here, serving students, professors and the community at large for half a century."

Artifacts detailing the history of the Irvine S. Ingram Library will be exhibited in the Thomas B. Murphy Reading Room until May, with the 50 Years of Ingram Library Celebration set for Wednesday, April 18.

The anniversary celebration will kick off UWG's Spring Fling from 2:30-4:30 p.m. in the Thomas Murphy Reading Room and Academic Quad area.

Speakers representing a different decade will share reflections of how Ingram Library affected their time at and relationship with UWG as a student, family member, or professional in the community, and why they've pledged to support Ingram Library for the next generation of UWG students.

Lorene Flanders, who served as dean of the Ingram Library from 2005-17 and now serves as executive director of libraries at the University of South Alabama, navigated Ingram Library through 12 years of expansion, renovation and change.

Flanders said the goal of her work at UWG was to subvert the stereotype of a library being a "stern, quiet place."

"That's not what the students of today need," Flanders said. "So much of the modern work environment involves interacting with other people, so it's refreshing that libraries and other parts of universities across the nation have become much less focused on individual work and more focused on critical thinking and interaction among students' peers."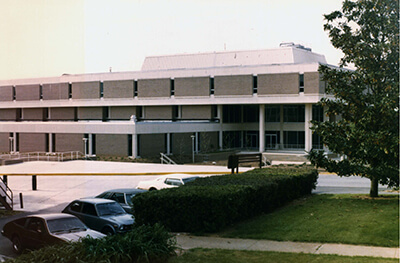 Ingram Library's 50th Anniversary and Penelope Melson Society exhibit features photographs, blueprints, correspondence and library technology demonstrating how Ingram library has grown since its humble beginnings in Sanford Hall and has remained a crucial resource for researchers at UWG.

Themes highlighted in the exhibit include the building's history, development and adaptation to technology, key personalities on the library's staff over the years, and the library as a social and academic hub for students, professors and the community.

The exhibit was co-curated by Murrain; Catherine Hendricks, processing archivist; Laurel Durham, special collections graduate research assistant; and first-year student, Brittany Mott.

"This is where our campus community gets the information they need to do their work and reach their full potential," Murrain said. "We're looking forward to celebrating this milestone in the library's history and looking forward to the next 50 years and beyond."

For more information about the exhibit or upcoming event, contact Murrain at smurrain@westga.edu or 678-839-5350.
Posted on