by Katie Stepp
"If you arrived here at UWG finished, there was no need for you to come," Rev. Dr. Jamie Washington began. "Let's allow ourselves not to be finished but to be explorist—take risks, say the unsaid, trust intent and name impact, prepare and engage in conflict and discomfort. There may be some challenges. But honest dialogue will take us to deeper levels of understanding and acceptance."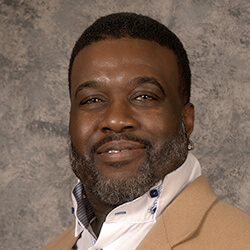 The African-American Male Initiative, College of Arts and Humanities, College of Mathematics and Sciences, College of Social Sciences, the Graduate School, Residence Hall Association, Health Services, LAMBDA, and Richards College of Business partnered with the Center for Diversity and Inclusion to host Washington on the University of West Georgia's campus recently for its Diversity and Inclusion Integrated Campus' Speaker Series.
Washington opened his speech by informing his audience that his goal was to create space to delve deeper into different intersectional identities. One will not be effective in this area of study if they don't understand and discuss the intersection of religion and sexual orientation, he explained. In order to achieve this goal, Washington created an environment where individuals are stirred and can continue to engage with each other, even after the conclusion of the speech.
Washington opened a discussion within the audience about their personal experiences on campus and in general with the intersection of religion and sexualities.
"Up until about five years ago in this area, it was shunned" one student shared. "You couldn't be anything but a heterosexual and spiritual."
"There is a lot of conflict between the two," another student confided. "If you are a member of the church, and you are coming out, you have to have that inner battle because this is who you like, but the pastor says you're not supposed to do this."
Washington is a decorated speaker, serving as the president and founder of the Washington Consulting Group (WCG), an educator for 33 years, vice president and president elect of the American College Personnel Association (ACPA), and president and co-founder of the Social Justice Training Institute.
Washington also holds a B.S. degree in science from Slippery Rock State College, double Master of Science degrees from Indiana University at Bloomington, a Ph.D. in college student development from the University of Maryland College Park, and a Master of Divinity from Howard University School of Divinity.
One of his most recent honors is the University of Maryland-Baltimore County's Legends of Excellence Award for his contribution to the lives and education of Black and Latino faculty, staff and students. Currently, Washington is the pastor of Unity Fellowship Church of Baltimore.
Exploring the intersection of religion/spirituality and sexual orientations and gender identity specifically through the lens of Christianity, Washington encouraged individuals to engage in different perspectives and think about what they know about this complex topic.
Washington really focused on upholding a voice in the conversations, whether it's discussions in class, with peers, around campus, at work or church.
"As we navigate these conversations, we must understand the dissonance in the socialization," he said.
Washington went on to discuss gender as a social construct. Gender identity is how one sees themselves, and sexual orientation is about how one connects to others.
"If we're not taking the time to do our own study and work, we will come up with the wrong answers," he concluded. "I want you to leave this space as you continue to do your own understanding around reconciling, engaging and being in the conversation. Don't just go with the crowd—do your own work."
Posted on