by Julie Lineback
The University of West Georgia's Publications and Printing recently earned a bronze award for print excellence from the In-plant Printing and Mailing Association (IPMA). The award was for the Spring 2014 issue of Perspective magazine. UWG previously received awards in print excellence from IPMA in 2012, 2009, and 2005.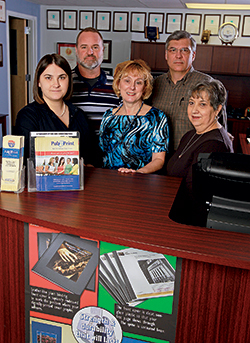 More than 400 entries were submitted to this year's contest. Judges looked for numerous details, such as even ink coverage without color variation from page to page, whether image registration is perfectly in alignment, evenly-printed solids, perfect folding and stapling, good design, and no errors, like ghost images or track marks, on the printed piece.
Overall, 67 winners were selected from 28 in-plants across the country. Other winners included Yale and the universities of Oklahoma, Arkansas, Minnesota, and Oregon.
"We are really happy to see UWG's printing included with such prestigious universities," Director of Publications and Printing Sally Roberts said.
Staff directly involved in the award-winning piece included Keith Harris, senior offset press operator; Eddie Rogers, production supervisor; and Carlos Olvera, offset pressman. Debby Holcomb and Eddie Rogers handled prepress, and University Communications and Marketing's Teresa Pyron managed the design.
Founded in 1964, IPMA is the only professional association dedicated exclusively to the needs of all in-house corporate publishing, printing, and distribution professionals.
Publications and Printing produces quality print products for university programs, departments, and colleges as well as student organizations, faculty, staff, and individual students. As a unit of Auxiliary Services in the Division of Business and Finance, the department produces more than 10 million copy and printing impressions annually.
Posted on