by Gary Leftwich
On a clear, breezy afternoon in late November 1963, the motorcade carrying John F. Kennedy wound through packed Dallas streets. Thousands crowded the route, waving frantically and trying to catch a glimpse of their president – the man who unified and energized the nation with the hope of a new era.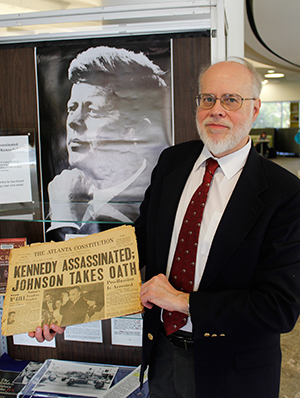 America still vividly remembers the horror and chaos that followed as Kennedy's midnight blue Lincoln Continental convertible limousine came under attack. JFK became the fourth and latest president to fall to an assassin's bullet. Hope faded into somber mourning as the nation suffered a loss of innocence.

Few know, however, this was not the first attempt to kill JFK.

In fact, several previous efforts failed in the weeks leading up to the Dallas trip, according to Lamar Waldron, a nationally recognized expert on the assassination. If not for good intelligence and political intrigue, that fateful day could have happened earlier, in Atlanta, Chicago, Tampa or Miami.

"JFK's murder – we call it an assassination, but it really was a murder – was not a Texas thing," Waldron told a group of more than 100 people during a recent lecture sponsored by the Penelope Melson Society at the University of West Georgia's Ingram Library. "It was a national thing."

Tracing a web of top-secret plans and events spanning four nations, Waldron based his case on thousands of federal files he helped pressure the FBI to release, as well as interviews with associates of John and Robert Kennedy. His book "Legacy of Secrecy: The Long Shadow of the JFK Assassination" is being made into a movie by Warner Brothers.

The convergence of events that led to Kennedy's death started in the late 1950s and includes Kennedy's campaign for and winning of the presidency, according to Waldron.

"The election in 1960 between Sen. John F. Kennedy and Vice President Richard Nixon, it really did lay the groundwork for what happened in 1963," he said.

A fierce opponent of the nation's mob culture as a senator from Massachusetts, JFK sought to break the mafia stronghold in America and Cuba as he assumed the presidency, with his brother joining him as U.S. attorney general. Together, they waged the most effective war against organized crime in American history, threatening the operations of top mobsters.

At the height of the battle, Robert Kennedy targeted many of the mob's major players, including Carlos Marcello, a notorious godfather from New Orleans, whom RFK deported, and Santo Trafficante, a kingpin from Florida who controlled criminal operations in Cuba. Unknown to the Kennedys, both men were among a dozen or so mob-affiliated covert operatives working with the CIA, according to Waldron. Also in that group was Johnny Rosselli, who managed Trafficante's casino business in Cuba.
Following the failed Bay of Pigs invasion of Cuba in 1961, which was planned by the CIA and approved by JFK, and the resulting Cuban Missile Crisis a year later, the Kennedys sought to remove Cuban dictator Fidel Castro and his regime from power. With his brother, Raul, Castro led the Cuban revolution that put them in control of the island nation in 1959.

An offer of help in ousting Castro came from an unexpected source: Commander Juan Almeida, founder of the Cuban army and the nation's No. 3 man under the Castros. Almeida agreed to kill the dictator in exchange for $500,000 and the shielding of his family in America, Waldron said.

With a date set for Dec. 1, 1963, Almeida proposed a plot to have Castro shot as he rode in a motorcade in an open Jeep and blame the assassination on a Russian sympathizer, forcing Russia to slow its aggression in trying to control Cuba.

"Castro liked to show he was a man of the people," Waldron said. "So, he didn't ride in a limo, he rode in an open Jeep."

Seeking to broaden the coup's effectiveness, the Kennedys ordered that no mafia informants be allowed to take part in the plot. In addition, they put plans in motion to make sure the mafia bosses could not return to Cuba and reopen their casinos after the coup.

The plot was so detailed, it included a formal contingency plan in case the assassination failed and Castro killed an American official in retaliation. An autopsy would be conducted on military base in Cuba with only the basic information released.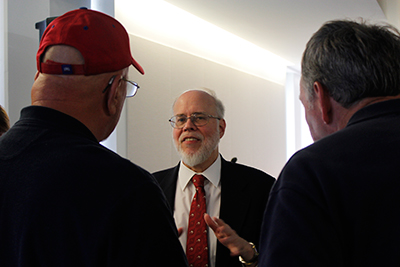 "This wasn't a plot they threw together in days or weeks or months. They worked on this for almost a year," Waldron said. "Bobby Kennedy directed it all. What we think of as the cover-up of JFK's murder was actually planned ahead of time by a committee run by Robert Kennedy, not to cover up JFK's murder, but to cover up what it would look like if the U.S. ambassador was killed."

Unbeknownst to the Kennedys, Marcello and Trafficante learned of the plot through their CIA connections. A dozen of their associates knew of the plan, while six of them had worked on it, according to Waldron.

"The coup plan gave them the opportunity, because here's the sad irony – the Kennedys had banned the mafia from any role in the coup," Waldron said. "They realized they could use the secrecy surrounding this coup to kill JFK."

"All the time the handful of people in the CIA who knew about the plot thought when John Rosselli goes to Miami and meets with this guy Jack Ruby from Dallas, Rosselli says this is about the plot to kill Fidel," Waldron added. "When, in reality, it was about the mafia's plot to kill JFK. So, you can see how they were doing this right under the nose of the CIA."
With the plot now flipped, Marcello and Trafficante faced carrying it out before the Dec. 1 date of the planned Castro assassination. The first opportunity was at an August speech JFK was scheduled to deliver at Georgia Tech in Atlanta, according to Waldron.

"Mayor Ivan Allen had to tell JFK's people 'We can't protect you in a motorcade down Peachtree Street,'" he said. "'Why don't you helicopter in to Grant Field at Georgia Tech?' That's what happened."

For the second attempt, organizers of the plot chose Chicago, where Kennedy was scheduled to attend the Army-Air Force football game on Nov. 2. Secret Service agent Abraham Bolden, the service's first African-American agent, overheard word of a plot by four men to shoot the president. In addition, Thomas Vallee, an ex-Marine with a personal history much like Lee Harvey Oswald's, had been given a job in a tall warehouse overlooking the proposed motorcade route. When police arrested Vallee, he had weapons and more than 1,000 rounds of ammunition, Waldron said.

"I spoke with JFK's press secretary, Pierre Salinger," he said. "He had to issue two excuses for cancelling not only the motorcade, but JFK's entire trip to Chicago at the last minute, literally as people were lining up to see the president.

"Things quieted down," Walden added. "Then, we have JFK's trip to Tampa."

On Nov. 18, four days before landing in Dallas, Kennedy arrived in Florida to address the United Steelworkers union and other groups before heading to Miami to speak to the Inter-American Press Association (IAPA) and deliver a major speech on Cuba. The president travelled without his wife, Jackie, who had accompanied him on many trips. Three months earlier, the couple had welcomed their third child, Patrick Bouvier Kennedy, who was born five and a half weeks early and lived only two days.

Kennedy's Tampa motorcade was the longest in his time as president, covering more than 20 miles. Much like in Dallas four days later, people packed the streets in a welcome one witness later recalled only happened for rock stars like the Beatles. To those in Tampa, Kennedy was a rock star.

It's no coincidence a plot focused on Tampa. Among its more well-known natives was Santo Trafficante. The coincidences do not stop there, according to Waldron.
Plans for the would-be Tampa assassination resembled those of the Dallas operation, he said. The Tampa gunman would have fired from a window of the Floridian Hotel, then the tallest building in the city. The motorcade was expected to slow for a left turn at the hotel. In Dallas, Kennedy was shot while the motorcade slowed to make a left turn.
Like Chicago and Dallas, Tampa had a patsy, a Cuban named Gilberto Policarpo Lopez who was allegedly poised to take the fall in Tampa, unbeknownst to him, according to the Waldron's interviews with Lopez's wife.
Again, intelligence would foil the assassins' plans. Tampa Police Chief Mullins learned of the plot to shoot the president. Among the details was involvement by Joseph Milteer, a wealthy white supremacist from Quitman, Ga., who had been recorded by a police informant saying Kennedy would be shot "from an office building with a high-powered rifle. He's knows he's a marked man."
"Mullins tells JFK's people and then the president himself, 'There's a plot,'" Waldron said, adding that secret service agents corroborated the information. "It was a big deal and JFK was almost killed."
A mafia informant working with the Tampa police told Trafficante the plot had been discovered, so the mob boss called off the plan.
"JFK couldn't cancel," Waldron said of the Florida trip, because the president had to give his speech in Miami. "Imagine how tense it was. There was backfiring. He had a lot more security than he had in Dallas, because they knew somebody was going to be shot."
As the Dec. 1 date of the plot to assassinate Castro neared, Almeida grew nervous and questioned the CIA about America's commitment to the deal. To assure him, the CIA had a few lines added to the Miami speech, showing that commitment still was strong.
"Kennedy gave that speech," Waldron said. "Commander Almeida got what he was looking for. So, then we come to Dallas – no active threat in Dallas."
In fact, Kennedy's security detail, all but Bolden, were so calm they gathered in a local bar for a night of drinking that lasted until 6 a.m., less than five hours before the president's arrival on Nov. 22.
"They were finally relaxed, because finally there was not threat," Waldron said.
The visit culminated with one of the most significant moments in America's history. Two Italian assassins hired by Marcello fired the fatal shots before being whisked away and killed themselves, according to Waldron. Jack Ruby, who worked for Marcello and had been caught skimming money from a club he managed for the mob boss, was ordered by Marcello himself to kill Oswald, silencing the largest possible source of information.
By flipping the plan developed by the CIA to kill Castro, the mobsters also silenced the U.S. government.
"By connecting Oswald to several parts of the JFK-Almeida coup plan, those working for Marcello, Trafficante and Rosselli could ensure that when Oswald surfaced as the main suspect, the CIA and other agencies would have to cover up much information to protect the coup plan – which is exactly what happened," Waldron said.
Six months after his brother's death and four years before his own assassination, Robert Kennedy attended the dedication of the John F. Kennedy Interfaith Chapel on the campus of West Georgia College, now the University of West Georgia.
"What is objectionable, what is dangerous about extremists is not that they are extreme, but that they are intolerant," Robert Kennedy said, calling the chapel a "warmly fitting tribute to President Kennedy, not only because it bears his name, but because it, too, expresses and advances the spirit of tolerance among religions and among men."
Posted on