by Gabriel Guzman
"If any of you have ever wondered what you would have done had you been around during the Civil Rights Era, you don't need to wonder. It's happening now." Those are the words of International Ambassador for Black Lives Matter Janaya Khan at her recent visit to the University of West Georgia.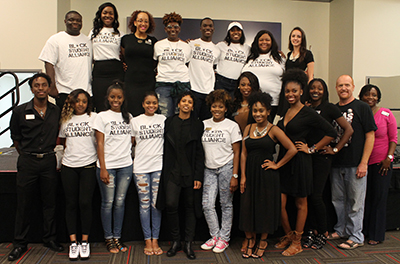 Some argue that law enforcement officials systematically target African-Americans, while others believe that even law enforcement officials are victims of the same struggle. Sixty years ago the Civil Rights Movement began a formal protest against the unfair treatment of African-Americans. Today, as Black Lives Matter serves as a familiar experience much like the Civil Rights Movement, citizens everywhere are questioning what they can do to bring change. Leaders of the Students Activities Council (SAC) are no different.
The UWG SAC sponsored a Black Lives Matter event with Khan, co-founder of the Black Lives Matter Toronto chapter. They lead the efforts for social transformation and justice. Khan is non-gender conforming and makes it clear that this is not just a voice for African-Americans, but also for transgender, queer and disabled people.
Some may ask why Black Lives Matter is relevant today, so many years after the Civil Rights movement. According to Khan the answer is simple.
"The reality is every time we start somewhere in the middle, black people continuously get left behind. If we do this right, we don't need to have a Black Lives Matter movement."
Many students attended the event trying to understand what is going on in our country. Some students went to be educated and to support.
Alaitra Macgrone, issues and ideas director and entertainment director for SAC, said it's important to have an event like this at a university or college because it spreads awareness and sheds a positive light on what's going on in the world.
The event was co-sponsored by Executive Director of Special Programs Dr. Michael Hester, the College of Arts and Humanities, the College of Social Sciences, Richards College of Business, the Center for Diversity and Inclusion, Black Student Alliance and LAMBDA.
Posted on