by Bryan Lindenberger
With heightened emphasis on student test scores, many researchers, educators and employers have seen a need to place greater focus on skills that likely won't show up on a multiple-choice test.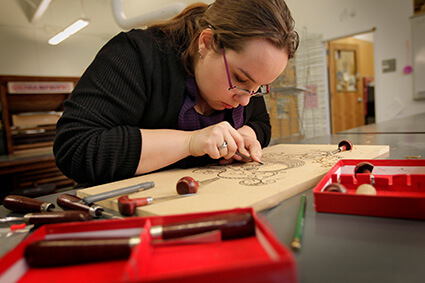 Liberal arts and humanities - part of the classic core of education – are gaining wider attention thanks to a national initiative called Liberal Education and America's Promise (LEAP).
Launched in 2005 by the Association of American Colleges and Universities (AAC&U), LEAP emphasizes analysis, critical thinking, written and oral communication, personal responsibility, civic and engagement and other skills that form a more rounded, engaged individual both in- and outside the workplace.
Helping lead the way, the University of West Georgia's LEAP West! program has made great strides in the last year. Dr. Micheal Crafton, provost and vice president of academic affairs as well as a professor of English at UWG, spoke recently on the headway made in the LEAP West! initiative.
"We, along with five other institutions in the state, have just been picked to be part of a massive Lumina grant," he said.
Crafton noted the grant will stress high-impact practices to positively influence students who face a particular set of challenges.
"These are often persons from low socio-economic backgrounds or first-generation students," said Crafton. "I am of both, so I can relate to this."
Intensive seminars, study abroad trips, internships, community service activities, undergraduate research in labs and presentations at conferences are examples of high-impact practices. Yet many students lack the resources to take advantage of these often life-changing opportunities because of economic constraints or lack of confidence - not a lack of ability or interest.
"We're going to get some money to help change that," Crafton said, referring again to the Lumina funding of TS3, or Taking Student Success to Scale. A National Association of System Heads (NASH) initiative, Lumina awarded NASH $1.2 million over two years in support of the program, with UWG being one of only six institutions in Georgia taking part.
LEAP is thoughtfully designed to take on two sets of goals. One is essential learning outcomes, which address the core skills required of students, such as writing or critical thinking.
"The number one criticism we hear from employers is that their hires can't write," Crafton said. "Essential learning outcomes not only addresses written and oral communication, but factors such as civic knowledge, inquiry and analysis and ethical reasoning and action.
The other set of goals is called principles of excellence.
"These ask us to hold nothing but the highest expectation of our students and ourselves," Crafton said. "To achieve excellence and inclusiveness so we are working always on these issues of community, civic responsibility, equity and inclusion, as well as the highest forms of academic achievement."
Along with high-impact practices, LEAP employs other means to achieve its goals, such as in-depth seminars for incoming students as well as a senior capstone seminar. In between lie guided learning pathways, which provide educational opportunities that are, according to the AAC&U, "rich in relevant, inquiry-based, engaged practices that serve as catalysts to increased completion for underserved students."
According to Crafton, the LEAP West! program is about more than what a student wants to do with a college degree.
"It's about what you want to do with your life," he said.
Posted on