by Colton Campbell
University of West Georgia students, faculty, staff, parents and visitors will have a progressive new tool to remain safe this fall with the recently launched public safety app, LiveSafe.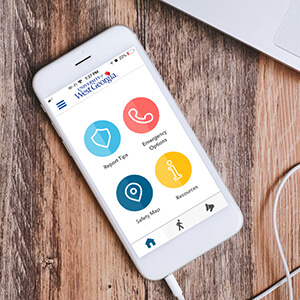 UWG Police Chief Tom Saccenti said the new app – which consolidates and expands the features previously offered by two separate apps – became part of his vision for UWG's campus security shortly after he arrived last September.

"This app is a huge part of our vision to create a greater sense of community in which all students, faculty, staff and those who come to our campus are able to in a safe, secure community environment," Saccenti said.

Both UWG's campus in Carrollton and UWG Newnan center will have access to the LiveSafe app, which launched Aug. 8.

One popular feature of the new app allows users to ask a trusted individual to virtually "watch" them walk or drive between destinations to ensure they reach their destination in a timely and safe manner. A user opens the SafeWalk portal, types in their destination, and chooses a contact to watch them walk or drive. The trusted individual can then watch the user in real time travel to their destination to ensure they make it there safely.

The SafeWalk option on the LiveSafe app is just one of many innovative options offered. Saccenti said the wealth of choices on LiveSafe is one reason UWG changed to a different app. Users can also use the app as a "panic button," alerting authorities if they feel unsafe, or to report suspicious activity.

Carleigh Smith, senior implementation manager of higher education at LiveSafe, said 140 universities are currently using the app, as well as corporate clients, sports stadiums, malls and entertainment venues.

LiveSafe was founded by Shy Pahlevani, a victim of a violent robbery, and Kristina Anderson, a survivor of the 2007 massacre at Virginia Tech.

"These brave individuals wanted to create a platform to immediately send information to 911 and report any suspicious activity or behavior," Smith said.

LiveSafe employs a simple, intuitive interface with only four options on its main screen, and some of these options conveniently branch off into other valuable menus.

A "Report Tips" option allows users to share information with UWG Police. For example, if a faculty or staff member sees a light out in the parking lot or is concerned about a person walking across campus at night alone, he or she can quickly alert public safety.

"The user can also attach a video, audio or photo without having to call us," Saccenti said.

The "Emergency Options" option allows the user to interact with campus police or local emergency services. Saccenti said the app is highly valuable in an emergency. It not only sends out alerts, but it can specify a particular area under threat.

A "Resources" option supplies the user with a plethora of information such as Student Counseling, Student Health Services, community resources and assistance with finding campus locations.

LiveSafe will replace two UWG public safety apps known as Wolf Alert and Wolf Guardian, which will remain active until Sept. 1. Saccenti said the dates of the safety apps intentionally overlap to allow students, faculty and staff to remove Wolf Alert and Wolf Guardian and to download the new customized LiveSafe tool to their mobile devices.

"Our goal is for everyone to download the app immediately and begin using it as a personal safety tool," Saccenti said. "Student safety is our top priority, and this app will empower all our stakeholders and visitors to our campus and UWG Newnan to proactively feel more secure."

To download the LiveSafe app:
• Search for and download LiveSafe, at no cost, from the App Store or Google Play Store.
• Open LiveSafe and enter your email address, cell phone number, or tap "Connect Using Facebook."
• Verify your email address and phone number with the verification email or code. Fill in your name and create a password.
• Select the University of West Georgia as your organization. The UWG logo will appear once connected.
• Sign in using your UWG ID and password. Agree to pop-up windows asking for notification and location services permissions.

For more information or to download the app, visit the www.westga.edu/LiveSafe.
Posted on