Charter subscribers in Carroll County are seeing a lot more of their local communities on television. In February 2015, WUTV—channel 180 throughout most of Carroll County—produced and aired two new shows that showcase people, businesses, and places of interest across Carroll County.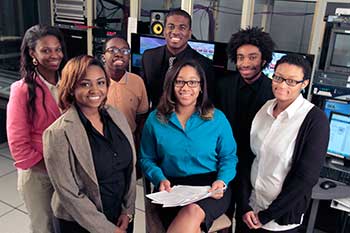 The first episode of the new West Georgia Treasures showcased Historic Banning Mills with a brief history told by founder Donna Holder and footage of the Whitesburg site today. People & Profiles, another new WUTV production, featured Carrollton's Little Gem Barbershop, which is possibly one of the oldest barbershops in the state of Georgia.
In the past year, WUTV added more than 70 new programs to its lineup, including the Carrollton Holiday Wishes Parade, Storytime at Neva Lomason Memorial Library, Tanner's Healthy Communities Summit and lectures and news from the University of West Georgia.
"The station has been part of the university since the 70s, initially serving the classroom media needs on campus. Today, students and staff at WUTV are working hard to live up to our tagline—'Where Education and Community Meet' by producing shows that showcase our campus and community," said Sonya Barnes, WUTV station manager.
Once known as Cable 13, then UTV13, the station is now WUTV, with a new website and social media presence. WUTV is a digital station with a mission to serve as an instructional and experiential learning laboratory component to the Department of Mass Communications.
"As the University of West Georgia's own fully operational educational television station, students write, produce, direct, shoot and edit programs that enhance their understanding and appreciation of all aspects of television production."
FOX Sports South donated set pieces to the WUTV studio and diligent grant writing efforts and funding from the College of Social Sciences and UWG helped secure state-of-the-art equipment, including a new lighting system and conversion of the control room and studio equipment.
Posted on