by Taylor Bryant
The University of West Georgia's seventh annual Dr. Martin Luther King, Jr. Program will feature Montgomery County Probate Court Judge Steven L. Reed. The program, hosted by the Center for Diversity and Inclusion, will be held in the Campus Center Ballroom on Thursday, January 14 at 7 p.m. This year's theme is Justice Rolling Like Mighty Water.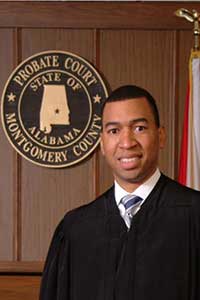 "The Center for Diversity and Inclusion hopes to create an opportunity to better understand issues related to social inequality, provide a space for self-reflection, and establish a greater sense of community," said Deirdre Rouse, director of the Center for Diversity and Inclusion. "We are excited that our students will have an integral part in the MLK program and believe this annual program continues to pave the way for future opportunities for dialogue and positive growth. As this year's theme, Justice Rolling Like Mighty Water, suggests, it is imperative that we all take ownership coupled with action to support progress toward justice, hence change."
Judge Reed, a Montgomery native, is a graduate of Morehouse College and Vanderbilt University's Owen Graduate School of Management. He began his professional career as a financial analyst in the marketing performance department at American Airlines corporate headquarters in Ft. Worth, Texas. After making the decision to enter politics, Judge Reed started a government relations firm to advocate issues before the Alabama legislature. He then went on to serve as senior aide to Lieutenant Governor Jim Folsom, Jr.
Judge Reed has appeared on and been featured in This Week with George Stephanopoulos and German television. He has also been featured in the New York Times and quoted in the Washington Post. He is on the board of the National Election Advisory Committee.
A community servant, he has a long history of participating in mentoring programs and public school reading initiatives.
Judge Reed and his wife, Tamika, are the proud parents of three children.
The event is free and open to the public. For additional information, please call 678-839-5400 or visit www.westga.edu/diversity.
Posted on