by Bonnie Butcher
Faculty, staff, students and community members of West Georgia gathered on campus in celebration of the upcoming Martin Luther King Day. Rutha Mae Harris, special guest of the evening, captivated the audience with her powerful voice and memorable life story.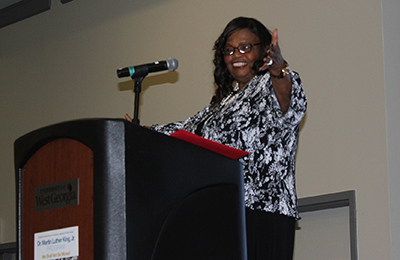 During her speech, she flowed in and out of song with grace. Her singing united audience members' voices and spirits, as the crowd joined her in song.
Harris is truly a voice of civil rights. Her work as a Freedom Singer has allowed her to live out her passions for music and justice simultaneously. Her journey, beginning in Albany, Ga., has spanned over 50,000 miles, singing for the cause of freedom and raising funds for the Student Nonviolent Coordinating Committee (SNCC).
On Thursday, Jan. 12, Harris traveled to UWG to keynote the eighth annual Dr. Martin Luther King program themed, "We Shall Not be Moved."
Harris's involvement in the Civil Rights Movement has carried her across the nation, even inside the walls of the White House. In 2010, she performed for President Obama as part of the "Celebration of Music from the Civil Rights Movement."
She also organized the Albany Civil Rights Museum (now Institute) Freedom Singers in effort to keep the Albany movement alive for the next generation.
Her upstanding journey as an activist dates back to the summer of 1961.
"I was home from Florida A&M University in Tallahassee, Fla.," Harris said. "I wasn't sure whether I wanted to become involved in the movement or continue my education. I decided that I needed to help myself. I didn't want anybody else to get my freedom. I wanted to be able to say I was involved in this struggle. Nobody did it for me. I did it for myself."
Harris's mother honored her decision to set her education aside as long as she eventually came back to it.
"The movement began during that summer, and I worked in voter registration drives, singing in mass meetings and taught citizenship school," Harris told the crowd. "I was able to teach a young man of 90 years how to write his name for the first time."
She recalled it as one of the most fulfilling times in her life.
"The Civil Rights Movement encompasses social movements in the United States," Harris said. "The goals were to end racial segregation and discrimination against Black Americans and to enforce constitutional voting rights. The journey of change was not, is not and will not be easy."
During the Albany movement, Harris, along with Dr. Martin Luther King Jr., was jailed four times.
"People were beaten, killed and jailed," she said. "Only because they wanted to be free. We wanted equality and to be treated as human beings. It was a shame that people had to lose their lives to accomplish freedom that was ours in the first place. We accomplished quite a bit, but there is still more to be done."
Harris then led the audience in singing, "Oh Pritchett, Oh Kelley," with lyrics about hearing God's children praying in jail. At the end of the song she told the crowd, "Now, you are all freedom singers."
In 1963, the Freedom Singers signed a recording contract with Mercury Records, and this was the beginning of her professional singing career.
"As an original Freedom Singer, I had firsthand knowledge about the music of struggle," said Harris.
Musical messages of the movement were transmitted to audiences in 46 states across 50,000 plus miles. Most of the singing was done congregationally.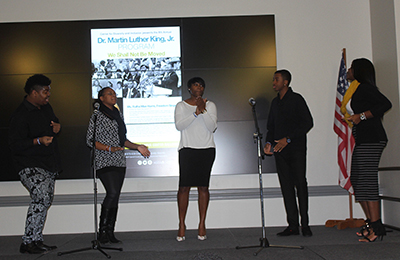 "The group lead the audience as the songs conveyed the message, which moved the audiences to action," she said. "A crowd could quickly turn into a community."
Harris has been widely recognized and celebrated for devoting her life to peace, freedom and equality, even through the most trying of times.
"During emotionally tense or physically threatening situations, the standard of nonviolence and a serene attitude were maintained through song, prayer, and words of encouragement," she stated. "Massive church rallies, peaceful demonstrations and even jailhouses echoed the songs of resolve. Just like a tree, planted by the roots of water, we shall not be moved.
"My belief is, without freedom songs, there would not have been a movement of nonviolence, because," she sang, "Freedom is a constant struggle."
The event was hosted by UWG's Center for Diversity and Inclusion.
Posted on