by Jasmine Render
Students and faculty members at the University of West Georgia kicked off Black History Month with a compelling and well-attended Ninth Annual Martin Luther King Jr. Celebration.
Dr. Marco Clark, CEO of Richard Wright Public Charter School in Washington, D.C., was the guest speaker for the event. Clark – known as "America's toughest principal" – encouraged students to be "unapologetic" when it comes to their passions in life.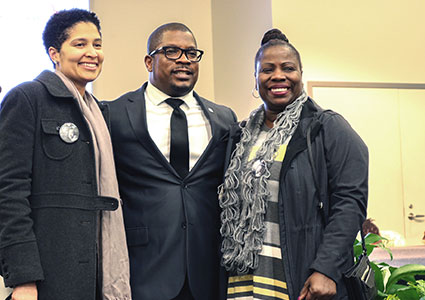 "I don't apologize for what I believe in," Clark said. "I believe that's how we change the culture and the world we live in."
Growing up outside of Philadelphia, Pa., Clark struggled both academically and financially as a young adult. However, he fought for a chance to make a difference in his community, looking toward King's "Letters from a Birmingham Jail" for continuous inspiration.
Throughout his speech, Clark touched on numerous subjects, including unity inside and outside of the school system and discipline within his own school doors.
"I don't have police or locks on my doors simply because I know that if I treat my students like inmates, they will become inmates," he said. "If I treat them like scholars, they will become scholars."
The event, hosted by UWG's Center for Diversity and Inclusion, started with a performance by United Voices Gospel Choir, followed by a welcome address by UWG President Dr. Kyle Marrero.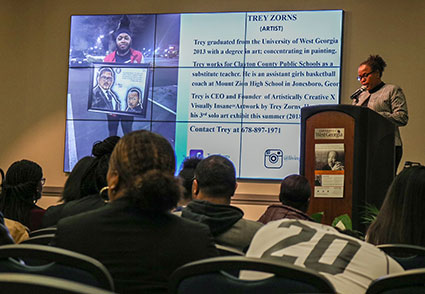 Near the end of his address, Clark received a painting completed by a UWG alumnus, Trey Zorns, that portrays Clark and King together.
Clark, grateful for the gift, said King inspired countless people though his courage to not only speak when others wouldn't but act when others couldn't.
"The most rewarding thing about my job is to see through the lens of my kids and having the ability to see them want to learn," Clark said. "That's what I believe in."
Posted on