by Colton Campbell
Going West? There's an app for that.

Actually, there's been an official University of West Georgia mobile application since 2012, but now the GoUWG mobile app has a fresh, updated design and many new features.


New modules for students include functionalities for enrolling in classes, viewing administrative holds and accepting financial aid offers. Robert Chesser, a UWG web designer, said the app has been updated for everyone who has downloaded it previously.

New users should search either the iOS App Store or the Google Play Store for "GoUWG."

Chesser said customizability is a "huge benefit" of the updated app.
"One of our main goals for designing this update is to make the app more flexible and customizable," Chesser said. "Since there are several different types of stakeholders who will utilize the app, it's important to offer the ability to change which modules are shown and in what order they're shown to make sure everything you see is applicable to you as a user."
Previously, many of the links on the app opened up a web page, but now the features offered live natively in the app, Chesser said.
"Students will be able to search for and sign up for classes wherever they are, which is something we heard from students as being a needed feature," Chesser said.
The update includes a new display option and four new modules: enrollment (allowing students to search for and enroll in classes); bursar (allowing students to view pending credits and charges to their accounts and make payments); holds (allowing students to view administrative and financial holds on their accounts); and financial aid (allowing students to view, accept or decline financial aid offers and awards).

The new display option will be a feed view, which will show users a list of notifications and the available modules. The default display option will remain a grid view, but users can change this in settings at their discretion.

Vedat Gunay, the project manager for the app update in UWG's Information Technology Services department, said adding new features was important given the increased use of the app by students and members of UWG's faculty and staff.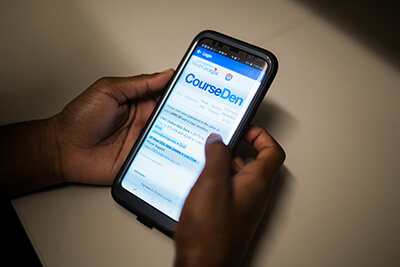 "We found that people were using the app on their phones more and more, so we wanted to bring this to our stakeholders to offer these new features," Gunay said. "There's a growing need for students to be able to do this kind of day-to-day work while they're on-the-go. This was really an initiative to update the existing app and bring some new, needed and requested improvements."

Users still will be able to use the features of the pre-update app, including searching the campus directory, browsing the event calendar, finding dining locations and hours, and viewing the campus map.

"The purpose of the app has always been for users to get a lot of information on an intuitive, visually pleasing platform," Gunay said. "These new features will add to the functionality of the app, but we expect the majority of students to continue using a computer to sign up for classes and check on administrative holds. The app is offering those services as a complementary source, rather than a replacement for accessing the websites on a computer."

Gunay said anyone can submit a comment or suggestion using the feedback feature on the GoUWG mobile app, or you can contact the ITS Service Desk by phone – 678-839-6587 – or e-mail servicedesk@westga.edu.
Posted on