by Colton Campbell
The University of West Georgia has been named one of the Most Promising Places to Work in Student Affairs for the seventh consecutive year.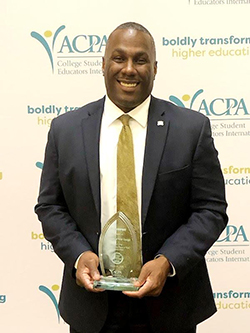 UWG received the recognition from the American College Personnel Association (ACPA) and "Diverse: Issues in Higher Education" magazine. UWG is one of only two universities nationwide to receive this honor all seven years it has been presented.
With a focus on workplace diversity, staffing practices and work environment, the research uses a web-based survey approach to examine categories including family friendliness, salary/benefits and professional development opportunities.
Dr. Xavier Whitaker, UWG's vice president of student affairs and enrollment management, said being named one of the top 20 most promising places to work in 2019 is recognition of the great work his division does every day to prepare for the opportunities and challenges in helping build student success.
"We're honored to again be named as part of this distinguished group of institutions," Whitaker said. "We have made supporting and developing our future leaders in higher education a high priority, and earning this award is a testament to that. We align our values of collaboration, growth and development to support the holistic enhancement of our students' and employees' lives."
Dr. Stacy Boyd, UWG's interim chief diversity officer, said earning this award – especially for seven consecutive years – will drive the university's efforts forward.
"Receiving this award is strong motivation to renew both our commitment to excellence through inclusion and to professional development opportunities for faculty and staff," Boyd said. "These commitments lead to student success, a cornerstone of our mission."
The list of the 27 most promising places to work in student affairs (in alphabetical order) includes:
Bowling Green State University

California Polytechnic State University, San Luis Obispo

California State University Channel Islands

Case Western Reserve University

College of William & Mary

Davidson College

Indiana State University

Lehigh University

Miami University

Ohio University

Pennsylvania College of Technology

Rochester Institute of Technology

Rutgers University-New Brunswick

Saint Louis University

Samuel Merritt University

Sonoma State University

Texas A&M University-San Antonio

The Ohio State University

State University of New York-College at Geneseo

University of California, Santa Barbara

University of Florida

University of Maryland, Baltimore

University of North Carolina Wilmington

University of Vermont

University of West Georgia

Virginia Tech

West Chester University of Pennsylvania
"Diverse: Issues In Higher Education" presented the national recognition to the winners during the ACPA annual meeting in Nashville, Tennessee, earlier this week.
For more information on the recognition, visit www.diverseeducation.com. To learn more about UWG's efforts in diversity and inclusion, visit www.westga.edu/diversity.
Posted on