by Colton Campbell
The red and blue went green, and it won them silver.
The University of West Georgia recently received a silver rating from the Sustainability Tracking, Assessment & Rating System (STARS) program, which measures the sustainability performance of colleges and universities.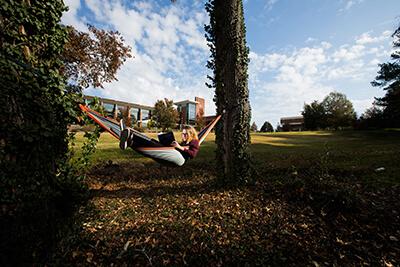 The program, created by the Association for the Advancement of Sustainability in Higher Education (AASHE), allows participants to submit data to earn a bronze, silver, gold or platinum rating based on factors like academics, engagement and operations of the university.

UWG President Kyle Marrero has named sustainability one of the university's core values.

"The value of sustainability is evident with our efforts to maintain ecological balance in our planning and operations. We recognize these initiatives provide better opportunities for success for future generations," Marrero said. "We are thrilled to have earned the silver rating from AASHE and look forward to continuing our commitment to sustainability through the development of practices and programming that uphold this standard."

With more than 800 participants in 30 countries, AASHE's STARS program is the most widely recognized framework in the world for publicly reporting comprehensive information related to a college or university's sustainability performance. Participants report achievements in five overall areas: academics; engagement; operations; planning and administration; and innovation and leadership.

The university was rated bronze following its first submission in 2015. The STARS rating system follows a three-year cycle, with UWG re-submitting earlier this year.

"Several years ago, before we applied in 2015, we wanted to see how we were doing in order to set a benchmark for the future," said Dr. Hannes Gerhardt, professor of geosciences and director of UWG's Center for Sustainability. "We were able to complete some projects that we considered 'low-hanging fruit' and were excited to be granted bronze certification. In the past three years, we've definitely upped our game and pursued some of the more difficult challenges, and we've managed to get credit for them, bumping us up to silver status."

Gerhardt defines sustainability in simple terms.

"Sustainability is about improving the quality of human life while maintaining a positive relationship with the natural and social systems that support us," Gerhardt said. "Inherent in this definition is a sense that current generations must not undermine the opportunities of future generations to also have a good life. At UWG, we see sustainability as a harmonious merging of sound economic, social and environmental practices."

Unlike other rating or ranking systems, the STARS program is open to all institutions of higher education, and the criteria that determine a rating are accessible to the public. The program is based on credits earned and allows for both internal comparisons as well as comparisons with similar institutions.

Over the past three years, multiple divisions within the university – including the Center for Sustainability – have worked to improve the AASHE STARS rating, formally identifying sustainability as a key initiative that affects all four imperatives in the university's strategic plan.

Perhaps the most noteworthy achievement in furthering sustainability since UWG's last submission has been the university's collaborative effort with the city of Carrollton and a number of strategic partners to establish a city-wide bike-sharing program.

The university, which has a segment of the 18-mile GreenBelt pathway running through its campus, has two Zagster bike-share stations on campus. Because of this commitment, UWG was recently named a bike-friendly university by the League of American Bicyclists.

"UWG has made it a goal to create an environment that is sustainable and relevant to the educational and personal needs of students; the aspirations of faculty and staff; and the economic, social and cultural needs of the community," said Brendan Bowen, UWG's associate vice president of facilities and campus planning. "To that end, we will assess the condition and suitability of campus facilities, technology, space utilization and campus infrastructure on an ongoing, scheduled basis."

So, what about 2021, the next year UWG will submit to the STARS program?

University leaders hope to increase the institution's AASHE score by 15 percent, with several concrete steps outlined to move forward.

One action plan is for the university to build on our active partnership with the Carrollton community to promote sustainable, healthy modes of transportation for our students, faculty and staff. The university also plans to implement recently developed guidelines for purchasing and energy/water management with the aim of reducing energy and decreasing waste.

A third action plan is for the university to engage the campus community in sustainability initiatives and exploring new avenues for involvement.

"Our hope is to maintain our silver status, but to improve within that rating," Gerhardt said. "In relation to our peer institutions, we are doing well above average in our efforts to educate our students, engage them in their community and make our campus a more sustainable place to live and work."

To read more about UWG's sustainability efforts, visit www.westga.edu/sustainability.
Posted on