by Gabriel Guzman
The University of West Georgia debate team left their mark in New York after yet another successful season. The team completed the season at the National Debate Tournament, hosted at Binghamton University, March 31-April 4. UWG Debate received two invitations based on prior performances during the season.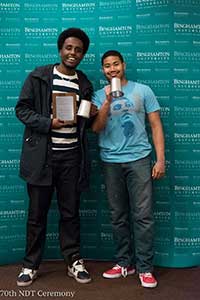 Hakeem Muhammad, a senior from Chicago, and Khalid Sharif, a junior from Utah, were deemed one of the top 13 teams in the nation. They were qualified for the NDT after receiving a first round at-large bid, making them one of the top 16 teams in the country. Those rankings revealed that Hakeem and Khalid were placed as the 13th team in the nation after the end of the regular season.

During the preliminary rounds, Hakeem and Khalid had a record of six wins and two losses. They were victorious amongst teams representing Georgetown University, University of Kentucky, Gonzaga University, University of Nevada-Las Vegas, and Trinity University.
They earned the 12th seed for the elimination round, but unfortunately they lost a 3-2 split decision during the double-octafinals, where the competition came to an end for UWG.
"While we were all disappointed to lose in the elimination round that we did, the coaching staff is thrilled with the overall performance of Hakeem and Khalid," said Dr. Michael Hester, director of debate. "They were consistently one of the top teams in the country all year, and successfully competed against the very best in the country while representing UWG with class."

UWG has a second team, comprised of Gershom Chan, a sophomore from Chicago, and Nick Charles, a freshman from Chicago. The team competed at their first National Debate Tournament, defeating teams representing Indiana University, the University of Minnesota, and the University of Nevada-Las Vegas.
"We are very pleased that Gershom and Nick were able to qualify for the NDT so early in their careers," said Dr. Hester. "Gaining this experience will help them understand what it takes to compete at the elite level of which UWG Debate has grown accustomed. The students will have these last three weeks of April to accomplish a strong finish in the classroom, and then we will immediately turn out attention to preparing for next season."
Posted on