by Colton Campbell
Nellie Dunaway Duke was born on the 20th anniversary of International Women's Day.
That's not a coincidence.
Duke, 87, has spent her life working to improve the lives of women in Georgia and throughout the world, and on Thursday, she received an honorary doctorate from the University of West Georgia after speaking during UWG's spring commencement.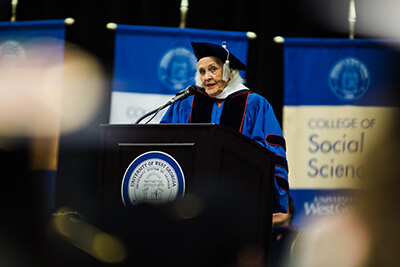 "Ever since my husband and I moved to Carrollton, Ga., in 1964, I've been inspired and impressed by the people who make up the University of West Georgia," Duke said. "When I look at this community and beyond – across the state, region and nation – I see the contribution UWG students, alumni, faculty and staff members have made to our society, and it's nothing short of awe-inspiring."
Duke is a charter member and was chairwoman of the Georgia Commission on Women from 1994-2015. She is also president and CEO of the Georgia Women's Institute, chairwoman and CEO of the Women's History Museum and president of the Georgia Woman of the Year Committee.
President Bill Clinton also appointed her to the Commission on Women in American History. As part of her work with the Georgia Commission on Women, she published the book, "Women and the Law: A Guide to Women's Rights in Georgia."
UWG President Kyle Marrero said the honorary doctorate is one of the highest acknowledgements provided by the university.
"Our objective in awarding this honorary degree is to provide UWG an opportunity to associate itself and its values with remarkable men and women who have done so much to inspire our students," Marrero said. "Nellie Duke is a tireless champion for women's and human rights, and her contribution to this university and community cannot be overstated. Her lifetime of advocacy has left a permanent impression on our world, and this honorary degree is a small token of our respect and admiration for her and her life's work."
University System of Georgia senior institutions are allowed to recommend to the Board of Regents honorary degree recipients for each academic year. UWG's criteria for an honorary degree recipient are notable achievements in an academic field, the arts and letters, the professions, or public service.
Nominations are solicited from the college community and are reviewed by the Honorary Degree Committee, which makes nominations to the president. The president then submits a candidate's name to the University System staff for final consideration by the Board of Regents. The chancellor then makes a recommendation to the Board of Regents.
UWG began awarding the doctorate of humane letters in 1996, with 19 honorees receiving the degree.
Duke said she's honored to be asked to speak at commencement, but also especially humbled to receive the honorary doctorate.
"I am a child of the Great Depression, and my family lived in a mill village," Duke said. "There was no HOPE Scholarship back then, and my family couldn't afford to send me off to college. I went to business school for a few months and continued my education in other ways, but to receive this honorary degree means more than I can say."
Duke has received many accolades over the years. The International Alliance of Women awarded her the TIAW World of Difference Award, and she was one of only 16 American women to receive this honor. UWG holds an annual Nellie Duke Leadership Conference, and UWG's Center for Diversity and Inclusion awarded Duke the 2015 Living Legacy Award.
Duke studied at the Carroll Lynn School of Business and Chicago University and worked in sales and marketing for J.C. Penney Co. and later as department manager for Sears. She has also been a semi-pro basketball player (1947-1948), basketball coach, PTA president, Girl Scout leader, Boy Scout den mother, church youth counselor, recreation department teen director, advocate for women's rights and volunteer for homeless veterans.
Duke lists among her greatest accomplishments her five children, 10 grandchildren and nine great grandchildren. She is also proud of changing, along with the NAACP, Carroll County government (via federal courts) and influencing city government to make it more diverse.
In the 1960s, Duke worked to make school integration successful and peaceful and influenced the removal of the footnote in Georgia laws, "The above does not apply to women, idiots or children."
Duke married her late husband, Henry, in 1949 and lives in Carrollton, Ga.
Posted on