by Sheryl Marlar
The National Society of Collegiate Scholars (NSCS) at the University of West Georgia recently earned the Bronze Award for their outstanding achievements around scholarship, leadership and service.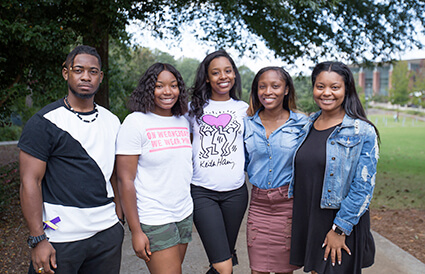 NSCS is an honors organization committed to recognizing and elevating high achievers. As a member of the Association of College Honor Societies, NSCS membership is by invitation only, eligible to first and second year students based on grade point average and class standing.
NSCS chapters can attain one of six star status levels for completing a series of activities and programming to include the NSCS New Member Induction Ceremony, March to College™ Day, Integrity Week, professional development, community service, and leadership.
The chapter at UWG received the bronze star status level for its contributions to NSCS and the community.
"I am very proud of the hard work of the NSCS members," said Dr. Kathleen Barrett, lecturer in political science and NSCS advisor. "Their commitment to community service while maintaining their grades is commendable."
Among other community service events, the UWG chapter recently set up a table on campus to raise awareness of breast cancer for Breast Cancer Awareness month.
"I commend both the student officer board and the advisor for their hard work and commitment in honoring, inspiring and engaging the campus community and student scholars," said Stephen E. Loflin, CEO and founder of NSCS in a statement. "Attaining a star status level is no easy feat for a full-time undergraduate student and officer. UWG's NSCS should be proud of this accomplishment as we continue to build a national community of first and second year high-achieving scholars."
Levels include bronze, silver, gold, certified gold, platinum and diamond. Each level is determined by the quantity and quality of events a chapter held the previous year. Only the most exceptional chapters are awarded platinum and only one chapter each year is awarded the coveted diamond status.
Based on the ranking, chapters will receive a trophy, additional funds for chapter programs, and a letter to the president of their university to showcase their exceptional work and the impact that they have made on their campus.
Posted on