by Adrian Greer
Her resume reads like the reference box of a University of West Georgia campus map: Arbor View, Campus Center, Coliseum, Stadium, Greek Village, Nursing Building, Visual Arts Building, Center Pointe – University Architect Elsa Pena has played a major role in all of them. Overall, she has had an impact on over 1 million of the total 2.6 million square feet of building space on campus.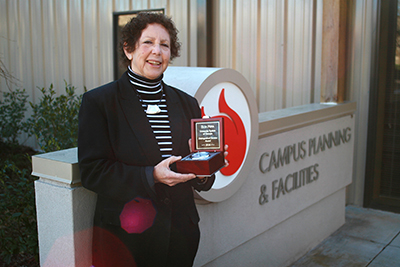 And for her efforts and her reputation, the University System of Georgia honored her with the Distinguished Service Award that was presented to her at a conference in Savannah in October. The award is only given to one person a year in the university system.
"I was surprised," Elsa said about receiving the award. "It was very kind, I didn't expect it. When my name came up, and my picture came up, I thought 'me?'"
But it seems like Elsa was about the only one surprised by the honor, as her work has earned her the award.
"This award is for someone who had a significant contribution to the university system as a whole, and she definitely has done just that," Director of Planning and Construction Services Carlos Ruiz said. "She has taught me everything I know, and I feel lucky to call her my mentor and peer."
Carlos continued, saying that you cannot quantify the amount of tangible experience and skill that she brings to the department.
"She brings a vast array of knowledge to the team," he said. "She has worked in the system for years in operations planning and construction and that is invaluable."
Through her career in higher education, Elsa has been recognized as a trailblazer. She was one of the first two women in the nation to become university architect and one of the first five women in the nation to hold a leadership position in facilities management.
Elsa said that one of the things that she is most proud of is her work developing public/private partnerships at UWG.
"We had to develop the plan and find out how to implement it," she said. "But those partnerships really allowed us to have the ability to meet the needs of a growing campus and meet them in a way that didn't compromise what the students do need and what they will need in the future."
Overall, her work at UWG since 2002 has renovated the entire look of the campus and what it can offer students.
"I have seen the campus grow and physically change. There were only about 8,000 students here when I arrived," she said, now that UWG has over 12,000. "I am very proud that I have been a part of changing the face of the campus, we have come a long way."
Before 2002 she served in a variety of architectural and construction-related roles at Georgia State University from 1977 to 1999. She is also a registered architect in Chile and the state of Georgia. Elsa is a member of the Association of University Architects and the Society for College and University Planning.
Posted on