by Joy Esiemokhai
"We are inevitably our brother's keeper because we are our brother's brother." Those eternal words by Dr. Martin Luther King Jr. provided the main question at the University of West Georgia's sixth annual Dr. Martin Luther King program.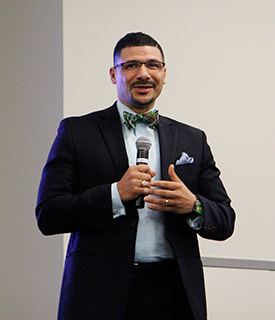 Themed "Are We One Another's Keeper?," the event, which was hosted by the Center for Diversity and Inclusion and Honors College and Advanced Academy, was organized to mark the 2015 MLK Day as well as celebrate and reiterate his legacy of equality and justice for all. UWG senior Jeremiah Morton, a member of the African American Male Initiative and Black Men Encouraging Success, emceed the program. Dr. Micheal Crafton, UWG's provost and vice president for Academic Affairs gave the welcome address to the audience and extolled the importance of upholding Dr. King's philosophy of brotherhood, which is as important now as it was during the Civil Rights era.
Several other UWG and Georgia leaders, including students and faculty, participated in the event, giving brief speeches about how they see and live Dr. King's values of vision, leadership, and integrity everyday in their lives and respective organizations and communities. The audience was also treated to a vignette showing the various student organizations on campus taking part in community service activities, as well as a wonderful performance of "Take the Limits Off" by Israel Haughton and the New Breed by the United Voices Gospel Choir.
Dr. Steve Perry, the founder and principal of Capital Preparatory Magnet School in Hartford, Connecticut and an accomplished author and media education contributor, was the main speaker at the event and eased into his role by cracking a few jokes and providing funny anecdotes to the audience's delight. Dr. Perry spoke about how he rose from continuing the seemingly inevitable cycle of poverty that he had grown up in to having a stellar career and the "unreasonableness" of the dreams that brought him to where he is now. "My mother was unreasonable; I was unreasonable," he said. "Dr. King was an unreasonable man, and he lived in a time that was, by design, unreasonable."
He emphasized the need for not limiting oneself due to what other people call "reason." "Reason, at its core, is reality for some," he remarked. "It defines what you see and don't see, do and don't do. When no one tells you the limits of who you are, you don't see the limits of who you could become."
Dr. Perry also highlighted the need to lift one's fellow man up; to be one another's keeper, as Dr. King had preached. "When you remove the limits on you, you open the door for other people," he said as he encouraged the students in the audience to be like Dr. King's cohorts during the Civil Rights era. "The women and men you see when you look at Dr. King's marchers were your age. It's not enough to just show up. This generation has to add something to the conversation."
"Dr. King lived decades ago but what Dr. Perry said tonight show that his lessons and legacy are timeless," said Julian Brown, a UWG master of public administration student.
"Dr. Perry's focus on the imperative of being the agents of transformative change- what he calls being unreasonable- was a breath of fresh air," said Dr. George Kieh, a UWG professor of political science who also presented the libation to the ancestors at the event.
Following what had been an evening of learning and sharing, Dr. Perry answered a few questions from the audience and stuck around for a brief meet-and-greet with attendees who had undoubtedly been inspired to be as unreasonable as he is and Dr. King was before him.
Posted on