The University of West Georgia's Department of Publications and Printing once again bested hundreds of its peers at the annual Printing and Imaging Association of Georgia's (PIAG) ImPRESS 2017 Showcase and Print Celebration. The office walked away with six print excellence awards, including the overall Top Notch Award for having the most winning entries in its size division.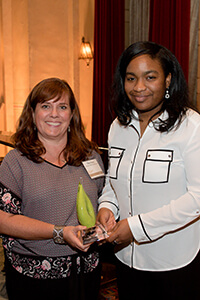 "What's most important to Pub and Print is that we have happy customers on campus, but it's all the more gratifying to know that other print professionals find our work to be top quality in comparison with so many other printers throughout the state," said Director of Publications and Printing Sally Roberts.
The awards also include four Best of Category and an Award of Excellence. Staff members Toni Drake and Michaela Carey accepted the awards at the Fox Theatre in Atlanta.
Best of Category awards were received for the Office of Admissions' Acceptance Package and Alumni's Homecoming Brochure, designed by University Communications and Marketing; and Auxiliary Services' Navigator, designed by its in-house marketing team. There was also a Best of Category award for a Georgia Hometown Teams catalog printed on campus for the Georgia Humanities Council and an Award of Excellence for the President's Gala Invitation.
The winning pieces, printed over the past year, were selected from among 357 entries submitted by 23 printing companies and four graphic arts schools. Judges were printers and graphic arts professionals from Texas and North Carolina. PIAG's Print Excellence Competition is Georgia's oldest and largest graphic arts awards program.
Publications and Printing is UWG's full-service campus printing facility that offers students, faculty and staff a variety of copy and print services from its location on Pub and Print Drive behind East Commons.
Posted on