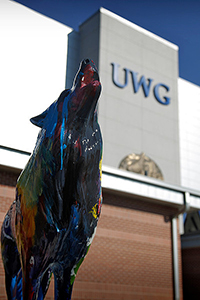 There's a new and more convenient way for the University of West Georgia community to share their accomplishments and be recognized. The Office of the President and University Communications and Marketing have unveiled the Points of Pride submission form located at www.westga.edu/ucm/1792.php.
Accomplishments can be submitted from any school, for any student, staff, faculty member, or alumnus, ranging from personal to professional achievements. They could range from quirky to normal awards that are often received.
The Points of Pride will be featured in a new Campus Pride section on Perspective Online at uwgperspective.com/pride or by the Office of the President. If selected by the president, the items will be shared at www.westga.edu/president/1846.php.
We want to hear from you about your accomplishments, large and small. We want you to share your successes with us and we will let the world know all the amazing things that happen at the University of West Georgia.
Posted on