by Taylor Bryant
The University of West Georgia was recently named one of the Most Promising Places to Work in Student Affairs for 2017. UWG is one of only two universities nationwide to receive this national recognition from the Center for Higher Education Enterprise (CHEE) for four consecutive years.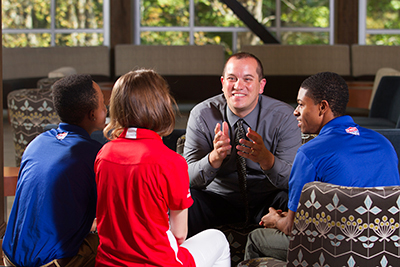 "This recognition is a testament to the excellent work that is done every day in the Division of Student Affairs and Enrollment Management at the University of West Georgia," said Dr. Scot Lingrell, vice president for Student Affairs and Enrollment Management (SAEM) at UWG. "The recognition is not what we strive for, but it is a natural outcome of keeping students first and focusing on our divisional goals of caring, collaboration, and growth and development. I couldn't be more proud of the efforts our employees make to help students succeed."
So what makes UWG a top choice for student affairs employees? Well, the answer is not a short, simple one. It probably differs for many student affairs employees, but most could likely agree on at least one of the top categories of this study. With a focus on workplace diversity, staffing practices and the work environment, the CHEE research team used a web-based survey approach to examine categories such as family friendliness, salary/benefits and professional development opportunities.
Salary/Benefits
UWG has conducted salary studies for the past three years, putting long and short-term plans in place to continue raising salaries for all employees to a competitive level. A recent 2016 study by the University System of Georgia revealed that UWG has a regional economic impact of $518 million, directly contributing to jobs and higher incomes.
"UWG is a great place to work because of its commitment to the health and wellbeing of the students, faculty and staff," said T.J. Peele, director of University Recreation. "Access to amenities that support personal wellbeing enables UWG employees to maintain the positive effects as they go through their work and model important lifestyle traits to our students."
As an added bonus, faculty and staff receive free access to the 131,000 sq. ft. Campus Center, which houses more than 100 pieces of fitness equipment, two large group fitness spaces with 40 classes per week, a 48' climbing wall, game room, functional training fitness space, faculty and staff specific locker rooms and personal trainers.
Professional Development Opportunities
There is a sincere focus to not only develop students, but also employees for growth and development opportunities through initiatives like Engage West!
"Working in the Division of Student Affairs and Enrollment Management at the University of West Georgia is truly the highlight of my 24-year career in higher education," said Philip Hawkins, director of financial aid. "I have worked at other colleges and universities and within other divisions at those institutions, and the structure and support that is provided by our SAEM leadership is head and shoulders above that at other places."
The Division of Student Affairs and Enrollment Management has taken Engage West! to new heights. The initiative, created by UWG President Dr. Kyle Marrero, is a comprehensive suite of programs that develop and support faculty and staff in creating a culture of high performance and evidence-based leadership.
"Each staff member within student affairs creates an individualized professional development plan with their supervisor," said Peele. "It is the expectation that they work together each year on actions to accomplish every employee's professional goals. This intentional focus on individual development and achievement makes UWG unique and special."
Family Friendliness
As a division that manages 20 different units, creating a sense of family and togetherness in the workplace has proven to be a vital component of success for Student Affairs and Enrollment Management.
"Having a clear strategic plan at the university level helps leadership share a common purpose. We aligned our divisional strategic plan to it with input from every single member of Student Affairs and Enrollment Management," said Danny Gourley, director of the Center for Adult Learners and Veterans. "The result is that we can represent units with various functions and still speak a common language and move in the same direction. This manifests in big ways, like when directors readily agree on budgeting priorities even if it means a smaller share of the dollars for their individual units. It also shows up when our employees give their nights and weekends to enhance the student experience. It works out because we form a sort of family."
Teamwork is only one way that UWG has been recognized as a family-friendly campus. UWG offers various opportunities for its employees to maintain work-life balance. Spouses of employees are given free admission to some athletic events, employees have priority in enrolling their children in UWG's pre-K program, and there are variety of shows and annual events such as Safe Treat for student organizations to welcome families from the community to campus.
"Our goal is to help students receive hands-on engaged learning experiences as well as to ascertain how to better understand, design and implement student affairs services that support individuals and communities to flourish," said Dr. Xavier Whitaker, associate vice president for student life and dean of students. "UWG is a distinctive place to work, learn and succeed because our community of educators model a reciprocal teaching and learning mindset that supports students and professionals alike to gain confidence in their continuous growth, pursue their intellectual curiosity and reach their fullest potential."

The list of 18 most promising places to work in student affairs (in alphabetical order):
Bellarmine University
California Polytechnic State University, San Luis Obispo
California State University, Channel Islands
College of William & Mary
Hofstra University
Indiana University Southeast
Lynn University
Miami University
The Ohio State University
Olivet College
Rutgers University-New Brunswick
Saint Louis University
Shepherd University
Stony Brook University
University of North Carolina at Wilmington
University of Vermont
University of West Georgia
Virginia Tech
About Most Promising Places to Work in Student Affairs:
Most Promising Places to Work in Student Affairs is a collaborative project between the American College Personnel Association (ACPA) and Diverse: Issues in Higher Education. The Center for Higher Education Enterprise (CHEE) at The Ohio State University was selected to conduct the national study, under the leadership of Dr. Terrell L. Strayhorn, professor and director, who also served as ACPA director of research and scholarship from 2009 to 2012.
Posted on