by Colton Campbell
More students than ever before are Going West this academic year.

The University of West Georgia reached another record-breaking student enrollment with 13,733 students for fall 2018. Enrollment for the university increased 1.6 percent from last year's 13,520 students.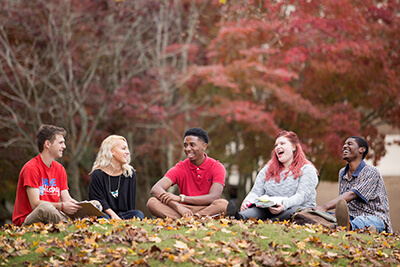 This is the eighth consecutive year UWG has reached record enrollment, growing from 11,283 students in fall 2010 – a 21.7 percent increase over the last seven years.

"We are excited to experience record enrollment for several consecutive years," said UWG President Kyle Marrero. "We've continued to work diligently as a collaborative team to ensure that our marketing, recruitment, retention, progression and graduation efforts support student success, and we applaud the students and parents who made the choice to Go West."

The UWG total enrollment number includes 11,135 undergraduate students and 2,598 graduate students. Of the total, 2,227 are new freshman students, a 2.4 percent increase over fall 2017.

Not only is this the largest student population in UWG's history, it's also the most academically accomplished – and the most diverse.

The average high-school grade point average for incoming freshmen reached a record 3.2 this fall, and average standardized test scores continue to trend upward. Additionally, nearly two-thirds of UWG students identify as female, and nearly half of the population are students from non-Caucasian backgrounds.

Dr. Scot Lingrell, UWG's vice president for Student Affairs and Enrollment Management, said there are "many factors" that go into a university's enrollment, and that UWG has managed to align all factors to lead to another record year.

"The continued improvement of these different factors revolves around UWG employees doing great work to convey what a special place West Georgia really is," Lingrell said. "Some of those components include effective marketing and dedicated, hard-working people who spend countless hours serving students through recruitment, retention and progression processes. Student success is at the core of it all."

UWG focuses on attracting not only high-performing high school seniors, but transfer students, veterans, non-traditional adult learners and graduate students. It's in those populations UWG forecasts future growth, as well.

"As we look to the next few years and our enrollment goals, much of that growth will come from these and other non-traditional groups," Marrero said. "We will continue to grow participation in dual enrollment and our graduate programs. At the same time, we are reaching out to those who did not finish degrees or those who want to further their careers with advanced degrees or certification."

The University System of Georgia tracks enrollment statistics from July 1-June 30 of each year. For the 2017-18 academic year, UWG conferred a record 2,659 degrees, up from 2,610 in the prior year.
Enrollment is up systemwide, as well. The headcount enrollment for the 26 institutions that compose USG in fall 2018 was 328,712, representing an increase of 1.1 percent over the fall 2017 enrollment of 325,203. Fall headcount enrollment has set a new all-time high for each of the past four fall terms.
At UWG, students can enroll in 87 programs of study at the bachelor's, master's, doctoral and certificate levels. The university currently enrolls students from all over Georgia, 37 other U.S. states and 72 other countries.
"This means attracting the best and brightest students from across the state, region, nation, and well beyond, and that we are maintaining an engaging experience by which they can develop into successful individualism," Marrero said. "We are in the business of transforming lives at all stages of the student experience, as we strive to become the best comprehensive university in America and the best place to work, learn and succeed."
Posted on